Yoga Inferno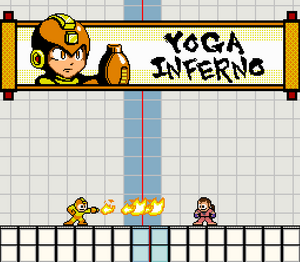 Mega Man using Yoga Inferno.
Weapon Information
Alt. Name(s):
Yoga Inferno
In-Game Information
Obtained from:
Dhalsim
Trajectory:
Short range, multi-directional
Effect:
Rapid fire
Effective against:
Blanka
Cost:
Between 1 and 2
Capacity:
19
Series Information
In-game appearances:
Street Fighter X Mega Man


Yoga Inferno is Dhalsim's special weapon from Street Fighter X Mega Man. When used, Mega Man will shoot a stream of fire. While shooting, Mega Man is immobile for the duration of the fire. The trajectory of the flame can be changed by pressing Up or Down.