Wily Castle (Mega Man 10)
Talk

0
Wily Castle
The Wily Castle from Mega Man 10 is a castle which has a long tower at the top. This castle has five stages.
Stages
Wily Castle 1
The first Wily Castle stage. The player begins outside the castle on a rainy night. As soon as the player enters the castle, he is attacked by the first Weapons Archive, which consists of Thunder Beam, Leaf Shield and Gemini Laser.
Enemies:
Wily Castle 2
Enemies:
Wily Castle 3
Enemies:
Wily Castle 4
The fourth stage, a long climb on stairs that end on a teleporter.
Enemies:
Wily Castle 5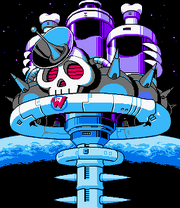 The last stage, the top of the Wily Castle in space.
Enemies:
Other media
Wily Castle appears in Rockman 10 -Extra F-.
Trivia
Because of the Wily Castle's top reaching beyond the atmosphere, this Wily Castle is technically the first Orbital Elevator in the overall series, predating the Jakob Orbital Elevator from Mega Man X8.