Wheel Cutter
Talk

0
3,568pages on
this wiki


Wheel Cutter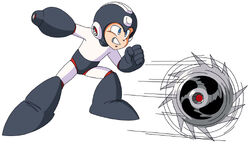 Mega Man using Wheel Cutter.



Wheel Cutter (ホイールカッター, Hoīru Kattā?) is Nitro Man's special weapon in Mega Man 10. The user attaches the Wheel Cutter to his arm to dart at enemies, and by releasing the attack button it is launched at enemies, following the contours of the landscape. Up to three Wheel Cutters can be launched at a time and it's effective to attack enemies in distance. It can also be used to quickly scale walls. It can also destroy Commando Man's Commando Bombs.
Damage Data Chart
Known damage values in units for Mega Man 10.
Wheel Cutter
Boss
Damage
Blade Man
1
Pump Man
1
Commando Man
4
Chill Man
1
Sheep Man
1
Strike Man
2
Nitro Man
1
Solar Man
1
Weapons Archive (Elec Man)
4
Weapons Archive (Wood Man)
2
Weapons Archive (Gemini Man)
4
Weapons Archive (Ring Man)
1
Weapons Archive (Napalm Man)
1
Weapons Archive (Flame Man)
1
Weapons Archive (Slash Man)
1
Weapons Archive (Frost Man)
1
Weapons Archive (Tornado Man)
1
Crab Puncher
1
Block Devil
1
Wily Machine No. 10: 1st Phase
1
Wily Machine No. 10: 2nd Phase
1
Wily Capsule
0
Enker
0
Punk
0
Ballade
0
Bosses Weak Against Wheel Cutter
See also
Similar Weapons