We are ROCK-MEN! 2 is a soundtrack featuring arrangements of various music from the Mega Man series.
Track list
METAMORPHOSE (Original)
THEME OF ROCKMAN Xover (Rockman ×over)
EXPLOSE HORNECK STAGE (Rockman X3)
DOPPLER STAGE 1 (Rockman X3)
X vs ZERO (Rockman X5)
Dr. WILY STAGE 1 -OMEGAMAN MIX- (Rockman 2)
SNAKEMAN STAGE (Rockman 3)
THEME OF ROCKMAN EXE (Rockman EXE)
SKY WAVE (Shooting Star Rockman 2)
TIME AGAIN feat. DIMENSION (Original)
TIME AGAIN ROCK ver. (Original)
METAMORPHOSE feat. DIMENSION (Original)
Video
We are ROCK-MEN! 2 preview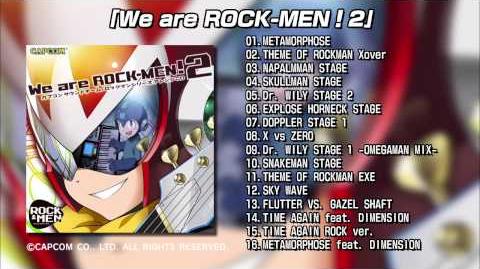 See also
External links
Ad blocker interference detected!
Wikia is a free-to-use site that makes money from advertising. We have a modified experience for viewers using ad blockers

Wikia is not accessible if you've made further modifications. Remove the custom ad blocker rule(s) and the page will load as expected.