Ad blocker interference detected!
Wikia is a free-to-use site that makes money from advertising. We have a modified experience for viewers using ad blockers

Wikia is not accessible if you've made further modifications. Remove the custom ad blocker rule(s) and the page will load as expected.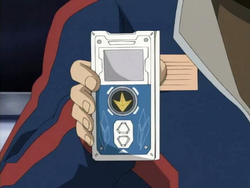 Wave Scanner (ウェーブスキャナー, Wave Scanner?) is a device released by Takara Tomy in Japan that can be connected to the Game Boy Advance port of a Nintendo DS for use with Mega Man Star Force and the Wave Transer toy. It is basically the successor of the Battle Chip Gate, allowing players to use Battle Cards. It also functions as an stereo radio.
Anime
The Wave Transer appears in the Mega Man Star Force anime, where it has the same function of the Transer. Geo Stelar receives a special Wave Scanner from Aaron Boreal in AMAKEN to replace his broken Transer in episode 42. A Wave Scanner is also seen being used by Aaron Boreal, Patrick Sprigs, Sonia Strumm (Leo), and Libra (Leo, in Mitch Shepar's form).
Wave Scanners
Shooting Star Rockman Wave Scanner Pegasus
(流星のロックマン ウェーブスキャナー ペガサス)
Wave Battle Cards
Wide Wave 1 and Gatling 1
Shooting Star Rockman Wave Scanner Leo
(流星のロックマン ウェーブスキャナー レオ)
Wave Battle Cards
Count Bomb 1 and Long Sword
Shooting Star Rockman Wave Scanner Dragon
(流星のロックマン ウェーブスキャナー ドラゴン)
Wave Battle Cards
Jumbo Hammer 1 and Plasma Gun 1
Shooting Star Rockman Wave Scanner DX Edition
(流星のロックマン ウェーブスキャナー DXエディション)
Contents
Wave Scanner, Geo's Visualizer, 4 Wave Battle Cards (Cancer Bubble, Crown Thunder SP, Air Spread, Freeze Knuckle)
Shooting Star Rockman Wave Battle Starter 1. Rockman
(流星のロックマン ウェーブバトルスターター1.ロックマン)
Contents

20 Wave Battle Cards:

2 Character Cards (Rockman and Gemini Spark)
2 Mega Class Cards (Cygnus Wing EX and Gemini Spark)
16 Standard Cards (random? Includes Radar Missile 2, Stun Knuckle, Wide Sword, Raimeizan (Strike Edge), Ground Wave 1, Moe Ring 2, Fire Bazooka 1, Cloud Shot 2, Thunder Ball 1, Jumbo Hammer 2, Vulcan Seed 1, Junk Cube 1, Recovery 50, Recovery 120, Giga Mine, and Attack+10)

1 red battle sheet
1 official rule book

Shooting Star Rockman Wave Battle Starter 2. Pegasus
(流星のロックマン ウェーブバトルスターター2.ペガサス)
Contents

20 Wave Battle Cards:

2 Character Cards (Rockman Ice Pegasus and Rockman)
2 Mega Class Cards (Harp Note and Cancer Bubble EX)
16 Standard Cards (random?)

1 blue battle sheet
1 official rule book

Shooting Star Rockman Wave Battle Card Case
(流星のロックマン ウェーブバトルカードケース)
Contents
A case to keep Wave Battle Cards
Shooting Star Rockman Wave Battle Card File
(流星のロックマン ウェーブバトルカードファイル)
Contents
A file that can keep 40 Wave Battle Cards
Shooting Star Rockman Wave Battle Card Pack Vol. 1
(流星のロックマン ウェーブバトルカードパックvol.1)
Contents
Four random Wave Battle Cards
See also