WARNING
THIS IS NOT A WALKTHROUGH, it's just the database, but i will compile one of this game at a later date. at the moment i am just doing a run through tho get the basics of the game. Feel free to add more to the parts i lack.
) Bass
Database
This is all of the characters and their description in my database right now, i will continue to add as i go trough the game.
001. sorry, i don't have this yet ( i think this one is megaman)
002. Roll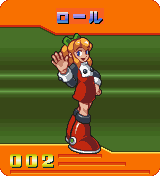 A house keeping rodot created by Dr. Light. She is the sister of megaman.
Good Point: Helpful
Bad Point: Cowardice
Like: Cooking
'Dislike: 'Cockroaches
003. sorry, i haven't recieved this one yet
004. Guts man
A civil engineer robot. He is so powerful that he can lift and carry a rock of two tons.
Good Point: Sentimental
Bad Point: One-track mind
Like: Karaoke
Dislike: Arguments
005. sorry, i don't have this yet
006. i apologize, this one is missing too
007. Fire Man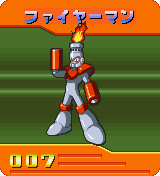 A robot created for the work in an incinerator. his main weapon is called Fire Storm.
Good Point: Hot-blooded
Bad Point: Hot-tempered
Like: Summer camp
Dislike: Rainy day
008. sorry, i don't have this one yet
009. Metal Man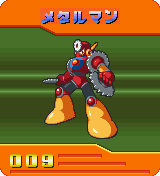 The first robot that Dr. Willy created and was designed after Cut Man.
Good Point: Quick at work
Bad Point: Shady buisness
Like: Frisbee
Dislike: Dog
010. unfortunately i do not have this one, either
011. Bubble Man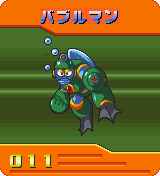 The first humanoid robot in the universe created for underwater battles.
Good Point: Bubbly personality
Bad Point: Lavish Spender
Like: Hot spring
Dislike: Oil slick
012. this one is also missing from my list at the moment
013. Crash Man
A drill-type bomb called the Crash Bomber is his weapon. His body is protected with a thick armor
Good Point: Forthright
Bad Point: Awkwardness
Like: Crushing buildings
Dislike: Recycle
014. Flash Man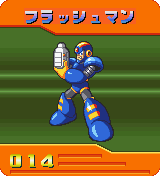 He can stop time for a short period. He sometimes makes bad use of his power for fun.
Good Point: Caring boss
Bad Point: Miseryguts
Like: camera
Dislike: Commercial for wig
015. unfortunately i don't have this one either
016. i don't have this one yet either
017. Needle Man
A robot created to work in energy mines. His Needle Cannon can pierce a ten-inch brick
Good Point: Pointy head
Bad Point: Spikey personality
Like: Sewing
Dislike: Injection
018. this one isn't on my list either
019. Gemini Man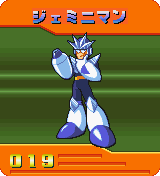 He can create an alter ego with a hologram. He is also a narcissist.
Good Point: Elegant
Bad Point: Overconfidence
Like: Mirror
Dislike: Snake
020. Hard Man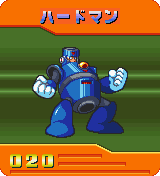 Made of ceramic titanium, he weighs almost three tons.
Good Point: Hard nut to crack
Bad Point: Lazy bones
Like: Sumo wrestling
Dislike: Swimming
021. i haven't gotten this one yet
022. Snake Man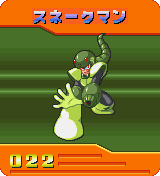 A robot created to investigate the narrow areas. He uses a snake-like missle called Search Snake.
Good Point: Green robot
Bad Point: Elusive ideas
Like: Toad man
Dislike: Slug
023. Spark Man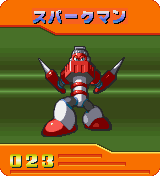 A robot created to charge electricity and he can generate twice as Elec Man can.
Good Point: Friendly
Bad Point: Forgeting robot
Like: Electric eel
Dislike: Loneliness
024.
025.
026.
027.
028.
029.
030.
031.
32
33
34
35
36
37
38
39
40
41
42
43
44
45
46
47
48
49
50
Ad blocker interference detected!
Wikia is a free-to-use site that makes money from advertising. We have a modified experience for viewers using ad blockers

Wikia is not accessible if you've made further modifications. Remove the custom ad blocker rule(s) and the page will load as expected.