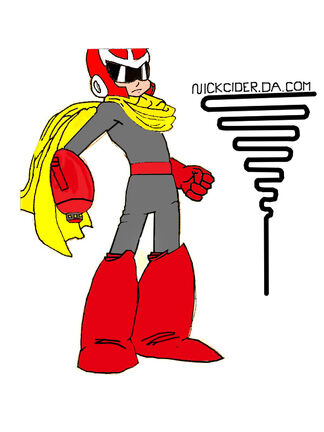 I do this as a hobby. If you're interested, here's my deviantart: 
nickcider - deviantart
I am an okay artist (well, my opinion as an artist. You think what you think about me). However, if you are intrigued then stick around. If not, then go away and fly with the birds to the Pitcairn Islands or something.
Favorite Mega Man characters have to be Proto Man, Mega Man (Rock or DLN-001), Bass, Zero, X, Shadow Man, Dr. Wily, Cut Man, Elec Man, Tron Bonne, Gemini Man, Auto, Roll (Legends series), MegaMan Volnutt, MegaMan.EXE (although I am a very low fan of the Battle Network series as he was the only character I liked from that series), Crash Man, Dr. Light (although only in the Megamix and Gigamix series), Vile, Sigma (although I feel his character is pretty bland, I mean really the only thing that you could say about Sigma is that he's evil and there is nothing more to it. I just really like his dark and intimidating voice in Mega Man Maverick Hunter X) and that is about it from the top of my head.
My favorite visual artist is John Kricfalusi (personal favorite but I know lots tell me that Hayao Miyazaki is the greatest and I agree though Kricfalusi has some inventive, experimental but still classic animation styles). And Michael Dante DiMatino, he's awesome.
My favorite manga artist is Hitoshi Ariga (creator of the Mega Man Megamix and Mega Man Gigamix). Favorite movies are Pulp Fiction, Forrest Gump, Inception, Christopher Nolan Batman trilogy & Chronicle. 
Favorite TV shows are Ren & Stimpy, South Park, The Simpsons, Space Ghost Coast to Coast, One Piece, Naruto, Sword Art Online (season 1 only), Fullmetal Alchemist, Avatar: The Last Airbender, Black Lagoon, Soul Eater & the Mega Man Ruby-Spears cartoon (ehh.. it's crap but it's good crap).
Favorite musicians/bands are Radiohead, Gorillaz, M83, Damon Albarn, Death Grips, Jimi Hendrix, Flying Lotus, Aphex Twin, Madlib, LCD Soundsystem, Arcade Fire, Thundercat, Kendrick Lamar, Schoolboy Q, Madvillian, DJ Shadow, Björk, Daft Punk, OverClocked Remix, J Dilla, John Talabot, Nas, Nirvana, Ratking, Sun Kil Moon, Tycho, Tony Castles, Twin Shadow, Tim Hecker, UNKLE, The Velvet Underground, The War on Drugs & Yes.
Favorite novels/short stories/novellas are That Was Then and This Is Now, The Secret Life of Keiko, The Outsiders, The Ransom of Red Chief, The Hitchhiker & Flowers for Algernon. Favorite writers are Michael Dante DiMatino (yeah, I know he worked on the animation of The Last Airbender but, I believe he wrote the show too. Correct me if I'm wrong.), S.E. Hinton & Daniel Keyes.
Love both the Shin Megami Tensei franchise and Mega Man franchise TO DEATH. Die hard fan of both. Favorite gaming platform is the PlayStation 2. Interested in drawing, writing and learning Japanese (kinda). My tools of the trade are drawing, papier-mâché, abstract and psychedelic.