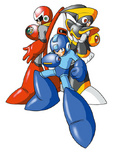 Hello
I am a big fan of the original mega man series, so I decided to contribute to the MMKB. My favorite Mega-Man game is Mega Man 3, and my favorite robot master is Pharaoh Man.
Trivia
I am better than you.
At everything.
I know where you live.
I know where your friends and loved ones live as well.
I am a registered pyromaniac
I was jailed once for murdering and eating pet rabbits.
I am a pet rabbit.