This article is in need of more information.

More information or suggestions about the issue might be found in a section of the talk page.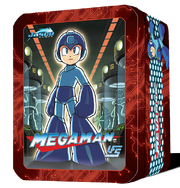 The Universal Fighting System (UFS) is a collectible card game originally designed by Sabertooth Games and currently under Jasco Games. The themes of the cards are drawn from a multitude of licensed gaming universes. In 2013, cards from the Mega Man franchise were included. In March 2015 it received an expansion, Rise of the Masters.[1] In the end of 2016 a second expansion will be released, Battle for Power.
Cards
Mega Man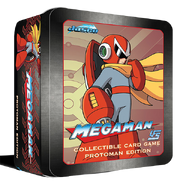 | No. | Card | Type |
| --- | --- | --- |
| MM01 SE 1/75 | Mega Man | Character |
| MM01 SE 2/75 | Hyper Mega Buster | Attack |
| MM01 SE 3/75 | Mega Arm | Attack |
| MM01 SE 4/75 | Mega Ball | Attack |
| MM01 SE 5/75 | Mega Buster | Attack |
| MM01 SE 6/75 | Rapid Mega Buster | Attack |
| MM01 SE 7/75 | Super Mega Buster | Attack |
| MM01 SE 8/75 | Agile Warrior | Foundation |
| MM01 SE 9/75 | Dauntless Hero | Foundation |
| MM01 SE 10/75 | DLN 001 | Foundation |
| MM01 SE 11/75 | Gaining Techniques | Foundation |
| MM01 SE 12/75 | Lab Assistant | Foundation |
| MM01 SE 13/75 | Left With No Choice | Foundation |
| MM01 SE 14/75 | Motivation | Foundation |
| MM01 SE 15/75 | Naïveté | Foundation |
| MM01 SE 16/75 | Never Back Down | Foundation |
| MM01 SE 17/75 | Pursuit of Dr. Wily | Foundation |
| MM01 SE 18/75 | Super Fighting Robot | Foundation |
| MM01 SE 19/75 | The Blue Bomber | Foundation |
| MM01 SE 20/75 | Thrown Into Combat | Foundation |
| MM01 SE 21/75 | Proto Man | Character |
| MM01 SE 22/75 | Big Bang Strike | Attack |
| MM01 SE 23/75 | Charged Proto Buster | Attack |
| MM01 SE 24/75 | Dashing Shield Bash | Attack |
| MM01 SE 25/75 | Proto Buster | Attack |
| MM01 SE 26/75 | Proto Strike | Attack |
| MM01 SE 27/75 | Rapid Proto Buster | Attack |
| MM01 SE 28/75 | Aerial Defense | Foundation |
| MM01 SE 29/75 | Always Watching | Foundation |
| MM01 SE 30/75 | Flawed Energy Core | Foundation |
| MM01 SE 31/75 | Forgotten | Foundation |
| MM01 SE 32/75 | Gentle Soul | Foundation |
| MM01 SE 33/75 | In the Nick of Time | Foundation |
| MM01 SE 34/75 | Lone Wanderer | Foundation |
| MM01 SE 35/75 | On Borrowed Time | Foundation |
| MM01 SE 36/75 | Prototype | Foundation |
| MM01 SE 37/75 | Reason for Existance | Foundation |
| MM01 SE 38/75 | Rejecting Family | Foundation |
| MM01 SE 39/75 | Repaired by Dr. Wily | Foundation |
| MM01 SE 40/75 | Unknown Motives | Foundation |
| MM01 T 41/75 | Bomb Man | Character |
| MM01 C 42/75 | Bomb Slam | Attack |
| MM01 R 43/75 | Hyper Bomb·· | Attack |
| MM01 UC 44/75 | Accurate Arm | Foundation |
| MM01 T 45/75 | Cut Man | Character |
| MM01 C 46/75 | Cut Slam | Attack |
| MM01 R 47/75 | Rolling Cutter | Attack |
| MM01 UC 48/75 | Ceratanium Blades | Foundation |
| MM01 T 49/75 | Elec Man | Character |
| MM01 UC 50/75 | Elec Slam | Attack |
| MM01 R 51/75 | Thunder Beam | Attack |
| MM01 C 52/75 | Conceited | Foundation |
| MM01 T 53/75 | Fire Man | Character |
| MM01 UC 54/75 | Fire Slam | Attack |
| MM01 R 55/75 | Fire Storm | Attack |
| MM01 C 56/75 | 8000 Degrees | Foundation |
| MM01 T 57/75 | Guts Man | Character |
| MM01 UC 58/75 | Guts Slam | Attack |
| MM01 R 59/75 | Super Arm | Attack |
| MM01 C 60/75 | Ground Shaker | Foundation |
| MM01 T 61/75 | Ice Man | Character |
| MM01 C 62/75 | Ice Slam | Attack |
| MM01 R 63/75 | Ice Slasher | Attack |
| MM01 UC 64/75 | 200 Below Zero | Foundation |
| MM01 UC 65/75 | Reprogramming | Action |
| MM01 UC 66/75 | Sisterly Scolding | Action |
| MM01 R 67/75 | Rush | Asset |
| MM01 UC 68/75 | Yellow Scarf | Asset |
| MM01 C 69/75 | A World Unprepared | Foundation |
| MM01 C 70/75 | Housekeeper | Foundation |
| MM01 C 71/75 | Nobel Prize | Foundation |
| MM01 C 72/75 | Robot Masters | Foundation |
| MM01 C 73/75 | Robots' Father | Foundation |
| MM01 UC 74/75 | Sons of Dr. Light | Foundation |
| MM01 UC 75/75 | The Year 200X | Foundation |
| MMP01 1/1 | Mega Man | Character |
Mega Man: Rise of the Masters
| No. | Card | Type |
| --- | --- | --- |
| MM02 UC 1/144 | Air Man | Character |
| MM02 R 2/144 | Air Tikki | Asset |
| MM02 R 3/144 | Air Shooter | Attack |
| MM02 C 4/144 | Air Slam | Attack |
| MM02 UR 5/144 | Air Typhoon | Attack |
| MM02 UC 6/144 | Dust in the Wind | Foundation |
| MM02 C 7/144 | Frightening Appearance | Foundation |
| MM02 C 8/144 | Hatred of Autumn | Foundation |
| MM02 UR 9/144 | Taosenai | Foundation |
| MM02 R 10/144 | Crash Man | Character |
| MM02 UR 11/144 | Blasting Through | Action |
| MM02 UC 12/144 | Crash Bomber | Attack |
| MM02 C 13/144 | Crash Slam | Attack |
| MM02 UR 14/144 | Danger Zone | Attack |
| MM02 UC 15/144 | Delayed Detonation | Foundation |
| MM02 C 16/144 | Demolitions Expert | Foundation |
| MM02 UC 17/144 | Improved Design | Foundation |
| MM02 R 18/144 | Short Fuse·· | Foundation |
| MM02 UR 19/144 | Dr. Cossack | Character |
| MM02 UR 20/144 | Cossack Citadel | Asset |
| MM02 UC 21/144 | Cossack Buster | Attack |
| MM02 R 22/144 | Cossack Catcher | Attack |
| MM02 C 23/144 | Cossack Slam | Attack |
| MM02 UC 24/144 | A New Ally | Foundation |
| MM02 UC 25/144 | Fatherly Love·· | Foundation |
| MM02 R 26/144 | Siberian Scientist | Foundation |
| MM02 C 27/144 | Trusted Colleague | Foundation |
| MM02 SE 28/144 | Dr. Wily | Character |
| MM02 UR 29/144 | Self Destruct! | Action |
| MM02 SE 30/144 | Skull Fortress | Asset |
| MM02 UC 31/144 | Teleporting Hatches | Asset |
| MM02 UR 32/144 | Flying Fortress Buster | Attack |
| MM02 SE 33/144 | Gamma Crush | Attack |
| MM02 R 34/144 | Guts Cannon | Attack |
| MM02 SE 35/144 | Holographic Buster | Attack |
| MM02 SE 36/144 | Mecha Dragon Blast | Attack |
| MM02 SE 37/144 | MM:\Copy | Attack |
| MM02 SE 38/144 | Plubot Strike | Attack |
| MM02 SE 39/144 | Cunning Puzzler | Foundation |
| MM02 SE 40/144 | Double Crosser | Foundation |
| MM02 SE 41/144 | Driven by Hatred | Foundation |
| MM02 SE 42/144 | Genius Architect | Foundation |
| MM02 UC 43/144 | Hidden in His Shadow | Foundation |
| MM02 SE 44/144 | Master of Masters | Foundation |
| MM02 SE 45/144 | Reformed Scientist | Foundation |
| MM02 UC 46/144 | Gemini Man | Character |
| MM02 R 47/144 | Moon Base | Asset |
| MM02 R 48/144 | Double Gemini Slam | Attack |
| MM02 UR 49/144 | Gemini Beam | Attack |
| MM02 C 50/144 | Gemini Slam | Attack |
| MM02 C 51/144 | Narcissist | Foundation |
| MM02 C 52/144 | Ophidiophobia | Foundation |
| MM02 UC 53/144 | Strength of Pollux | Foundation |
| MM02 R 54/144 | Wisdom of Castor | Foundation |
| MM02 UC 55/144 | Magnet Man | Character |
| MM02 UR 56/144 | Polar Warp | Action |
| MM02 UR 57/144 | Magnet Missile | Attack |
| MM02 C 58/144 | Magnet Slam | Attack |
| MM02 R 59/144 | Magnetic Pull | Attack |
| MM02 R 60/144 | Don't Mess with Magnet Man | Foundation |
| MM02 C 61/144 | Electromagnetic | Foundation |
| MM02 C 62/144 | Fatal Attraction | Foundation |
| MM02 UC 63/144 | Master of Magnetism | Foundation |
| MM02 SE 64/144 | Mega Man | Character |
| MM02 UC 65/144 | Mega Slide | Action |
| MM02 SE 66/144 | E-Tank | Asset |
| MM02 UR 67/144 | Roll | Character |
| MM02 SE 68/144 | Atomic Fire | Attack |
| MM02 SE 69/144 | Dust Crusher | Attack |
| MM02 SE 70/144 | Hard Knuckle | Attack |
| MM02 SE 71/144 | Leaf Shield | Attack |
| MM02 UR 72/144 | Rain Flush | Attack |
| MM02 SE 73/144 | Time Stopper | Attack |
| MM02 R 74/144 | Top Spin | Attack |
| MM02 UC 75/144 | A Fighting Robot | Foundation |
| MM02 SE 76/144 | Copyright Dr. Light: 20XX | Foundation |
| MM02 SE 77/144 | Gamma Destroyer | Foundation |
| MM02 SE 78/144 | Merciful | Foundation |
| MM02 SE 79/144 | Neverending Battle | Foundation |
| MM02 SE 80/144 | Sense of Justice | Foundation |
| MM02 SE 81/144 | Weapons Upgrade | Foundation |
| MM02 UC 82/144 | Metal Man | Character |
| MM02 R 83/144 | Saw Blades | Asset |
| MM02 R 84/144 | Metal Blade | Attack |
| MM02 C 85/144 | Metal Slam | Attack |
| MM02 UR 86/144 | Omnidirectional Blade Strike | Attack |
| MM02 R 87/144 | Changing Directions | Foundation |
| MM02 UC 88/144 | Deforester | Foundation |
| MM02 C 89/144 | Design Flaws | Foundation |
| MM02 C 90/144 | Mechanical Maniac | Foundation |
| MM02 UC 91/144 | Pharaoh Man | Character |
| MM02 UR 92/144 | Egyptian Pyramid | Asset |
| MM02 R 93/144 | Pharaoh Shot | Attack |
| MM02 C 94/144 | Pharaoh Slam | Attack |
| MM02 UR 95/144 | Pharaoh Wave | Attack |
| MM02 C 96/144 | Charismatic Ruler | Foundation |
| MM02 C 97/144 | Fear of Women | Foundation |
| MM02 UC 98/144 | One Thousand Mummira | Foundation |
| MM02 R 99/144 | Pyramid Explorer | Foundation |
| MM02 UR 100/144 | Proto Man | Character |
| MM02 UR 101/144 | Ominous Whistle | Foundation |
| MM02 C 102/144 | Proto Slam | Attack |
| MM02 UC 103/144 | Shield Ram | Attack |
| MM02 R 104/144 | Turbo Proto Buster | Attack |
| MM02 R 105/144 | DLN 000 | Foundation |
| MM02 UC 106/144 | Fighting for Wily | Foundation |
| MM02 UC 107/144 | Repaying a Debt | Foundation |
| MM02 C 108/144 | Rescuer | Foundation |
| MM02 R 109/144 | Quick Man | Character |
| MM02 R 110/144 | Dodge! | Action |
| MM02 UR 111/144 | Quick Boomerang | Attack |
| MM02 UC 112/144 | Quick Charge | Attack |
| MM02 C 113/144 | Quick Slam | Attack |
| MM02 R 114/144 | 88 M.P.H. | Foundation |
| MM02 UC 115/144 | Always on the Move | Foundation |
| MM02 C 116/144 | Built for Speed | Foundation |
| MM02 C 117/144 | Rivalry with Turbo Man | Foundation |
| MM02 R 118/144 | Ring Man | Character |
| MM02 R 119/144 | Whopper | Asset |
| MM02 UR 120/144 | Aerial Ring Boomerang | Attack |
| MM02 UC 121/144 | Ring Boomerang | Attack |
| MM02 C 122/144 | Ring Slam | Attack |
| MM02 R 123/144 | Clever Strategist | Foundation |
| MM02 C 124/144 | Egotistical | Foundation |
| MM02 C 125/144 | Merciless Master | Foundation |
| MM02 UC 126/144 | Ring Toss Champion | Foundation |
| MM02 UC 127/144 | Skull Man | Character |
| MM02 R 128/144 | Fortress of Bones | Asset |
| MM02 UR 129/144 | Skull Barrier | Attack |
| MM02 R 130/144 | Skull Buster | Attack |
| MM02 C 131/144 | Skull Slam | Attack |
| MM02 C 132/144 | Balanced Fighter | Foundation |
| MM02 C 133/144 | Designed for Combat | Foundation |
| MM02 R 134/144 | No Other Purpose | Foundation |
| MM02 UC 135/144 | Reactive Style | Foundation |
| MM02 UR 136/144 | Snake Man | Character |
| MM02 UR 137/144 | Corner Your Prey | Action |
| MM02 UC 138/144 | Crawling Strike | Attack |
| MM02 R 139/144 | Search Snake | Attack |
| MM02 C 140/144 | Snake Slam | Attack |
| MM02 R 141/144 | Intelligent and Shrewd | Foundation |
| MM02 C 142/144 | Slithering Serpent | Foundation |
| MM02 UC 143/144 | Surveyor | Foundation |
| MM02 UC 144/144 | Unrequited Friendship | Foundation |
| BP02 1/2 | Met | Asset |
| BP02 2/2 | Yellow Devil | Character |
| MM02 P 1/1 | Sniper Joe | Character |
| MMP02 1/3 | Oil Man | Character |
| MMP02 3/3 | Time Man | Character |
| USH P X/X | Turbo Charge | Attack |
Mega Man: Battle for Power
No.
Card
Type
MM03 1/108
MM03 2/108
MM03 3/108
MM03 4/108
MM03 5/108
MM03 6/108
MM03 7/108
MM03 8/108
MM03 9/108
MM03 UR 10/108
Dr. Wily
Character
MM03 11/108
MM03 12/108
MM03 13/108
MM03 14/108
MM03 15/108
MM03 C 16/108
Premeditated Attack
Foundation
MM03 R 17/108
The Mysterious Mr. X
Foundation
MM03 R 18/108
The Power of Dark Energy
Foundation
MM03 R 19/108
Gyro Man
Character
MM03 20/108
MM03 21/108
MM03 22/108
MM03 23/108
MM03 R 24/108
Admissions Fees
Foundation
MM03 25/108
MM03 26/108
MM03 27/108
MM03 28/108
MM03 R 29/108
Flail & Shield
Asset
MM03 R 30/108
Flail Strike
Attack
MM03 31/108
MM03 32/108
MM03 33/108
MM03 R 34/108
For Chivalry and Honor
Foundation
MM03 35/108
MM03 36/108
MM03 UC 37/108
Mega Man
Character
MM03 R 38/108
Rush Jet Adapter
Action
MM03 39/108
MM03 40/108
MM03 41/108
MM03 R 42/108
A New Rival
Foundation
MM03 43/108
MM03 44/108
MM03 45/108
MM03 R 46/108
Napalm Man
Character
MM03 47/108
MM03 48/108
MM03 49/108
MM03 50/108
MM03 51/108
MM03 52/108
MM03 53/108
MM03 R 54/108
Walking Arsenal
Foundation
MM03 R 55/108
Slash Man
Character
MM03 56/108
MM03 57/108
MM03 58/108
MM03 R 59/108
Slash Claw
Attack
MM03 60/108
MM03 61/108
MM03 R 62/108
Ready to Pounce
Foundation
MM03 63/108
MM03 UR 64/108
Sword Man
Character
MM03 65/108
MM03 66/108
MM03 67/108
MM03 C 68/108
Quake
Attack
MM03 69/108
MM03 R 70/108
Nothing Personal
Foundation
MM03 R 71/108
Split Body
Foundation
MM03 72/108
MM03 R 73/108
Tengu Man
Character
MM03 74/108
MM03 75/108
MM03 76/108
MM03 77/108
MM03 78/108
MM03 R 79/108
Bird of Prey··
Foundation
MM03 80/108
MM03 81/108
MM03 R 82/108
Tomahawk Man
Character
MM03 83/108
MM03 84/108
MM03 R 85/108
Silver Tomahawk
Attack
MM03 86/108
MM03 87/108
MM03 88/108
MM03 89/108
MM03 R 90/108
Solar Powered
Foundation
MM03 91/108
MM03 R 92/108
Transform
Action
MM03 R 93/108
Crash Drive
Attack
MM03 94/108
MM03 95/108
MM03 96/108
MM03 R 97/108
No Air Bags
Foundation
MM03 98/108
MM03 99/108
MM03 R 100/108
Yamato Man
Character
MM03 R 101/108
Yamatadamashi
Action
MM03 102/108
MM03 103/108
MM03 104/108
MM03 R 105/108
Nippon Banzai!
Foundation
MM03 106/108
MM03 107/108
MM03 108/108
External links
References