Tomahawk Man
Talk

2
3,453pages on
this wiki


Tomahawk Man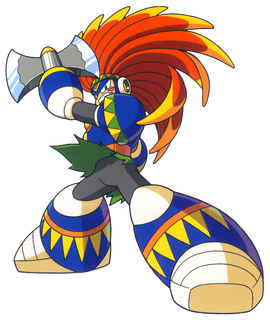 {{{nickname}}}
DWN-046
{{{numberb}}}
Information
In-Game Information

Command Mission Stats

Type
--
Level
Life Energy
--
--
Fire
--
Exp.
--
Water
--
Zenny
--
Thunder
--
FME
--
Power
Armor
Shield
Speed
--
--
--
--
Steal
Drop
--
--

List of Abilities
Ability
Effect
{{{ability1}}}
---
{{{ability2}}}
---
{{{ability3}}}
---
{{{ability4}}}
---
{{{ability5}}}
---
{{{ability6}}}
---
{{{ability7}}}
---
{{{ability8}}}
---
{{{ability9}}}
---
{{{ability10}}}
---
{{{ability11}}}
---
{{{ability12}}}
---
{{{ability13}}}
---
{{{ability14}}}
---
{{{ability15}}}
---

HP:
28
Attack Damage:
4 (contact)
5 (Silver Tomahawk)
4 (feather blades)
Weapon:
Silver Tomahawk
Weakness:
Plant Barrier
Main Stage:
Restricted Area
Misc. Information
Script:
トマホークマン
Romaji:
Tomahōkuman
Designer:
Yoshinobu Suda
Eye Color:
Blue
NetNavi Counterpart:
TomahawkMan.EXE
Series Information
In-game Appearances:
Mega Man 6
Mega Man & Bass (as a data CD)

Tomahawk Man (トマホークマン, Tomahōkuman?) is a combat Robot Master from Mega Man 6 designed as a Native North American warrior. Unlike the other seven Robot Masters from Mega Man 6, Tomahawk Man was built purposely for the First Annual Robot Tournament. However, he was reprogrammed by Mr. X to help him conquer the world, and was defeated by Mega Man.
His main weapon is the Silver Tomahawk, which he can throw and hit a target 100 meters away (328 feet, miscalculated 30 feet in his English CD data), but it moves in a upward arch, leaving a safe area for the opponent. To compensate for this, he can also attack by firing feathers horizontally from his headdress.
Mega Man 6 statsEdit
Energy: Solar Power
Height: 177 cm (5.8 feet)
Weight: 87 kg (192 lbs.)
Attack: 157
Defense: 71
Mobile: 149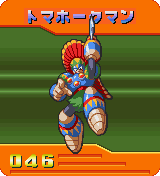 • CD data •
English data
He can throw a tomahawk and hit a target thirty feet away.
"Tomahawk Man does not lie."
Good Point:
Brave
Bad Point:
Exclusive
Like:
Horse Riding
Dislike:
Lies
Japanese data
"Tomahawkman, lies, not."
Good Point:
Courageous
Like:
Riding horse
Dislike:
Lies
Stage enemies
Edit
Damage Data Chart
Edit
Displays the amount of damage in units that Tomahawk Man will receive from each Special Weapon in Mega Man 6.
Other media
Edit
In the manga series, Tomahawk Man is a robot from North America that entered in the first World Robot Championship in the story "The Strongest Enemy to Date".
He appears in vol. 2 of the manga in the story "Moon of Darkness", where he is defeated by Pluto. He reappears repaired near the end of vol. 3.
Other appearances
Edit
Tomahawk Man also appeared in the manga Rockman 6 and Rockman 4Koma Dai Koushin, and a brief appearance in the Rockman & Forte manga.
Tomahawk Man has a cameo appearance in the opening scene of Mega Man 8.
In Tomahawk Man's mugshot in Mega Man 6, the piece of armor that covers his forehead is skin-colored instead of blue.
Tomahawk Man's weakness to the Plant Barrier might be a reference to the fact that flowers are a symbol of peace, since Tomahawk Man was built exclusively for fighting, thus being a symbol of war.