Tango
Talk

0
3,452pages on
this wiki
Tango
{{{nickname}}}
{{{number}}}
{{{numberb}}}
Information

Command Mission Stats

Type
--
Level
Life Energy
--
--
Fire
--
Exp.
--
Water
--
Zenny
--
Thunder
--
FME
--
Power
Armor
Shield
Speed
--
--
--
--
Steal
Drop
--
--

List of Abilities
Ability
Effect
{{{ability1}}}
---
{{{ability2}}}
---
{{{ability3}}}
---
{{{ability4}}}
---
{{{ability5}}}
---
{{{ability6}}}
---
{{{ability7}}}
---
{{{ability8}}}
---
{{{ability9}}}
---
{{{ability10}}}
---
{{{ability11}}}
---
{{{ability12}}}
---
{{{ability13}}}
---
{{{ability14}}}
---
{{{ability15}}}
---

Misc. Information
Kanji:
タンゴ
Romaji:
Tango
Eye Color:
Red
Series Information
In-game Appearances:
Mega Man V
Mega Man & Bass (as a data CD)
Rockman and Forte: Mirai Kara no Chousensha
Mega Man 10 (cameo)
Other Appearances:
Mega Man Megamix
Mega Man Gigamix


Tango (タンゴ, Tango?) is Mega Man's feline pet created by Dr. Light in Mega Man V.
Appearances
Edit
Tango appears in Mega Man V and Rockman and Forte: Mirai Kara no Chousensha as a weapon. Tango rolls toward the screen to attack enemies. Tango vanishes when the energy is depleted, when falling into a pit, or when the player leaves the room where Tango was used.
In Mega Man 10, Tango appears napping or playing on the counter of Auto's shop when playing as Proto Man.
Damage Data Chart
Edit
Known damage values in units for Mega Man V.
Tango (TA)
Boss
Damage
Mercury
1
Venus
1
Mars
1
Jupiter
1
Saturn
0
Uranus
0
Pluto
0
Neptune
1
Dark Moon
--
Terra
1
Skull Blazer
--
Enker
0
Quint
1
Punk
1
Ballade
1
L. Knuckle and R. Knuckle
--
Brain Crusher: 1st Phase
--
Brain Crusher: 2nd Phase
0
Sunstar
1
MegaMan Battle Network series
Edit

In the Mega Man Battle Network series, Tango's counterpart is a Navi Customizer program shaped like a green cat with a bandage roll on the head. When equipped, Tango appears once during each multiplayer NetBattle to heal the player and give them a barrier.
Mega Man & Bass CD data
Edit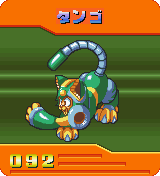 • CD data •
English data
A supporter robot that is remodeled from a pet robot. It rolls toward the enemy to attack.
"Meow Meow."
Good Point:
Rolling-stone
Bad Point:
Creature of moods
Like:
Mistletoe
Dislike:
Rush
Japanese data
"Purr purr purr snort!"
Good Point:
Round personality
Bad Point:
Moody
Like:
Katsuobushi
Dislike:
Pitfalls
Other media
Edit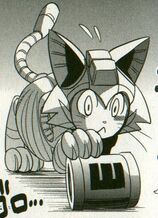 Tango has short appearances in the manga titles Mega Man Megamix, Mega Man Gigamix, and Rockman Remix. In Megamix and Gigamix, he seems quite fond of Proto Man, offering support for him whenever possible. His design is largely the same as his game-design, minus the cat snout in favor of a more anime-like face.
Tango also appears in the Archie Comics Mega Man comic series, first appearing in the Worlds Collide crossover with Sonic the Hedgehog, which is set in the future as the main comic, at the time, was only starting the events of Mega Man 3, while Worlds Collide features Bass and references the events of Mega Man 8 and 10. In this series, Tango also seems rather fond of Proto Man, purring against his leg and following him as he is taken in for repairs by Roll. During Mega Man and Sonic's fight in Mega City, Tango allied with Mega Man as backup. His ramming ability was also mentioned to be similar to Sonic's, to the latter's annoyance.
Tango is a genre of music and a dance style that is Argentina's musical symbol.
Keiji Inafune stated that the reason for creating Tango was that the team in charge of Mega Man V wanted to introduce a supporting character that did not appear in the NES games.[1]
In the CD data of Tango, his good point being "Rolling-stone" is probably based on the famous 60's Rock Band "The Rolling Stones". It could also be a reference to the way Tango attacks.
Tango dislikes Rush, more than likely because Tango is a cat-robot and Rush is a dog-robot.
Tango's distaste for pitfalls stems from the rolling nature of his attack- Tango rolls along the ground, and therefore cannot cross pitfalls, instead falling into them and ceasing his attack prematurely.
Like Rush, Tango has a helmet similar to Mega Man's.
References
Edit