Star Crash
Talk

0
3,619pages on
this wiki


Star Crash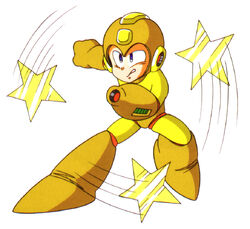 Mega Man using Star Crash.
Weapon Information
Script:
スタークラッシュ
Romaji:
Sutā Kurasshu
In-Game Information
Obtained From:
Star Man
Effective Against:
Mega Man 5:
Gravity Man
Dark Man 4
Wily Press
Mega Man (Game Gear):
Bright Man
Cost:
Mega Man 5:
3 units (shield)
2 units (projectile)
Mega Man (Game Gear):
4 units
Capacity:
Mega Man 5:
10 uses (shield)
14 uses (projectile)
Mega Man (Game Gear):
7 uses
Type:
Shield, Projectile
Series Information
In-game Appearances:
Mega Man 5
Mega Man (Game Gear)
Star Crash (スタークラッシュ, Sutā Kurasshu?) is Star Man's Special Weapon. This weapon creates a star-shaped barrier around Mega Man for protection, and it can be fired at enemies in the direction he is facing. Star Crash can resist only one hit, and excluding shots fired by Dark Man 4, it can protect against every enemy bullet in the game.
In Mega Man 5, Star Crash is Gravity Man's weakness. It is also slightly effective against Dark Man 4 and Wily Press.
Damage Data Chart
Damage values in units in Mega Man 5.
Star Crash
Boss
Damage
Gravity Man
4
Wave Man
1
Stone Man
1
Gyro Man
1
Star Man
1
Charge Man
1
Napalm Man
1
Crystal Man
1
Dark Man 1
1
Dark Man 2
1
Dark Man 3
1
Dark Man 4
2
Big Pets
1
Circring Q9
0
Wily Press
4
Wily Machine 5
1
Wily Capsule
1
Capacity
In Mega Man 5, the Star Crash does not use Weapon Energy when activated, using 3 weapon energy units if the shield is hit while protecting the user or 2 units if it's thrown, and can still be used if less than the amount of energy required remains. With a full weapon energy gauge, it can be shot 14 times or used as a shield 10 times.
Bosses weak against Star Crash
Other media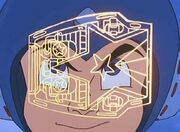 Mega Man uses Star Crash in episode 22 of the Mega Man animated series. In the cartoons, its chamber is shaped like a star, probably to generate the energy star.