Spread Drill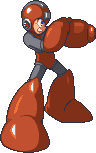 Mega Man and Bass equipped with Spread Drill.
Weapon Information
Script:
スプレッドドリル
Romaji:
Supureddo Doriru
In-Game Information
Obtained from:
Ground Man
Trajectory:
Wide
Effect:
Detonate
Effective against:
Tengu Man
User(s):
Mega Man, Bass
Attack damage:
Against Enemies:
6 (big drill)
2 (small drill)
1 (tiny drill)
Cost:
2 units
1 unit (with Energy Saver)
Capacity:
14 uses
28 uses (with Energy Saver)
Series Information
In-game appearances:
Mega Man & Bass

Spread Drill (スプレッドドリル, Supureddo Doriru?) is Ground Man's Special Weapon from Mega Man & Bass. When equipped, the user shoots out a big drill missile, which upon pressing the FIRE Button again, will split into two smaller drills. When the player presses the FIRE button again, the two drills can then be split again into two smaller drills each for a total of four small drills. If the first drill is not split by the user, it will slowly fall down after a while, but the other drills move straight forward. Certain blocks can be destroyed with this weapon.
Spread Drill is Tengu Man's weakness.
Damage Data Chart
Damage values in units in Mega Man & Bass.
Spread Drill
Boss
Damage
Green Devil
6:2:1
Cold Man
1:1:1
Burner Man
1:1:1
Pirate Man
1:1:1
Ground Man
0:0:0
Tengu Man
6:4:3
Magic Man
2:1:1
Astro Man
1:0:0
Dynamo Man
1:1:0
Atetemino Proto
1:1:1
King
1:1:1
Jet King Robo
0:0:0
Wily Machine
1:1:1
Wily Capsule
1:1:1
For Spread Drill, the first number is damage inflicted with the big drill; the second number is with the smaller drills; third number is with the tiny drills.
Screenshots
Ad blocker interference detected!
Wikia is a free-to-use site that makes money from advertising. We have a modified experience for viewers using ad blockers

Wikia is not accessible if you've made further modifications. Remove the custom ad blocker rule(s) and the page will load as expected.