Sonic Universe was a comic book series published by Archie Comics since February of 2009, and a spinoff of the comic book Sonic the Hedgehog.
Whereas Sonic the Hedgehog centers around the title character, Sonic Universe is meant to focus on other characters within the continuity with or without Sonic's involvement.
Both comics had a crossover with Mega Man in the storyline Worlds Collide from April to August of 2013. Starting May 2015, all three titles including Sonic Boom crossed over in Worlds Unite.
In contrast with Mega Man, both Sonic Universe & Sonic the Hedgehog followed up on Worlds Collide.
After a seven month hiatus, Sega has confirmed with Archie Comics that the Sonic the Hedgehog comics will not continue anymore, which includes Sonic Universe. The final issue was issue #94.
Worlds Collide issues
Worlds Unite issues
Related issues
Notable issue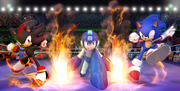 Cover gallery
External links
Ad blocker interference detected!
Wikia is a free-to-use site that makes money from advertising. We have a modified experience for viewers using ad blockers

Wikia is not accessible if you've made further modifications. Remove the custom ad blocker rule(s) and the page will load as expected.