Solar Man
Talk

0
3,457pages on
this wiki


Solar Man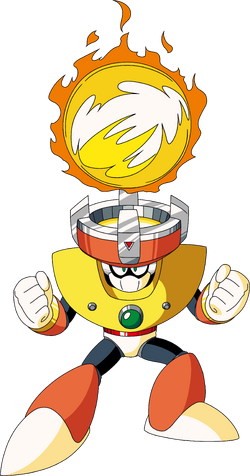 {{{nickname}}}
DWN-080
{{{numberb}}}
Information
In-Game Information

Command Mission Stats

Type
--
Level
Life Energy
--
--
Fire
--
Exp.
--
Water
--
Zenny
--
Thunder
--
FME
--
Power
Armor
Shield
Speed
--
--
--
--
Steal
Drop
--
--

List of Abilities
Ability
Effect
{{{ability1}}}
---
{{{ability2}}}
---
{{{ability3}}}
---
{{{ability4}}}
---
{{{ability5}}}
---
{{{ability6}}}
---
{{{ability7}}}
---
{{{ability8}}}
---
{{{ability9}}}
---
{{{ability10}}}
---
{{{ability11}}}
---
{{{ability12}}}
---
{{{ability13}}}
---
{{{ability14}}}
---
{{{ability15}}}
---

HP:
28
Attack Damage:
5 (Contact)
4 (Solar Blaze, Weak)
5 (Solar Blaze, Normal)
6 (Solar Blaze, Full Power)
Weapon:
Solar Blaze
Weakness:
Water Shield
Misc. Information
Eye Color:
Green
Series Information
In-game Appearances:
Mega Man 10

Solar Man (ソーラーマン, Sōrā Man?) is a Robot Master from Mega Man 10. He attacks by shooting energy straight out of the top of his head. He is also able to block and absorb attacks with his artificial sunlight to increase the power of his attacks.
Solar Man worked in a sunlight research lab before he went berserk from Roboenza. In his spare time he developed a "Solar Workout" plan which has experienced small success. [1]
Solar Man jumps around the room firing Solar Blaze from his head. He occasionally tilts his head towards you, aiming to absorb your shots in order to power the Solar Blaze.
On Easy Mode, his Solar Blaze starts at its weakest form and he only throws one fireball at a time.
On Hard Mode, his Solar Blaze is always at its most powerful form, and he also has a new attack in which he shoots three Solar Blazes into the air that fall at your position at the time. 
The best weapon to use is Water Shield, in that not only does it cancel out his attacks, but if used properly can hit him multiple times. It will also reduce the size of his Solar Blaze. He becomes extremely easy this way.
Stage enemies
Edit
Enemies that appears in Solar Man's stage.
As his name would suggest, Solar Man is capable of creating artificial sunlight from the top of his head. This would lead some to believe that he would be a light-elemental Robot Master. However, he is actually considered to be a fire-themed Robot Master.
Solar Man apparently has no visible head in his sprite, along with red hands instead of white, and his feet are also red instead of white.
Due to colour limitations, his eyes in his mugshot are orange instead of green like in the artwork.
References
Edit