Solar Blaze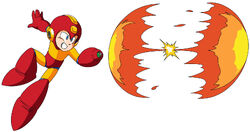 Mega Man using Solar Blaze.


Solar Blaze (ソーラーブレイズ, Sōrā Bureizu?) is Solar Man's special weapon in Mega Man 10. It splits apart and launches firebombs to the left and right after a set period of time, which look like two Fire Storm blasts. It is effective against enemies that cannot be attacked from the front, like Shield Attackers, and can hit two enemies between the player. It can be used to break some blocks. The Solar Blaze is quite slow if it is allowed to move the full distance before it splits apart. It can also melt Chill Man's Chill Spike.
Damage Data Chart
Known damage values in units for Mega Man 10.
Solar Blaze
Boss
Damage
Blade Man
1
Pump Man
1
Commando Man
1
Chill Man
3
Sheep Man
1
Strike Man
1
Nitro Man
1
Solar Man
1
Weapons Archive (Elec Man)
1
Weapons Archive (Wood Man)
1
Weapons Archive (Gemini Man)
1
Weapons Archive (Ring Man)
3
Weapons Archive (Napalm Man)
1
Weapons Archive (Flame Man)
1
Weapons Archive (Slash Man)
1
Weapons Archive (Frost Man)
1
Weapons Archive (Tornado Man)
1
Crab Puncher
1
Block Devil
1
Wily Machine No. 10: 1st Phase
3
Wily Machine No. 10: 2nd Phase
1
Wily Capsule
0
Enker
0
Punk
0
Ballade
0
Bosses weak against Solar Blaze