Slimey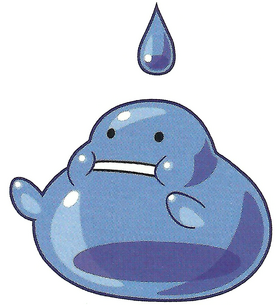 Information
In-Game Information
Virus Genus:
Slimey Family
Variants:
Slimey, Slimer, Slimest, SlimeyΩ
Series Information
In-game Appearances:
Mega Man Battle Network 3
{{{sprite}}}
Slimey, known as "Jellime" (ジェライム, Jeraimu?) in Japan, is a slime virus from Mega Man Battle Network 3. It hops into either one of the four directions, one panel at a time, towards its target and changes the color of each panel that it hits to its own color, stealing those panel. Once it reaches an obstacle or the last remaining column of the player's area, it will hop around its own area, attempting to relocate and hop onto the player. This virus deals damage by jumping onto its target and then back to the panel it originally jumped from to deliver the attack.
Slimey Family
Slimey

Slimey is a blue variant.
Slimer
| | |
| --- | --- |
| | Slimer (ヌライム) is a pink variant. |
Slimest
| | |
| --- | --- |
| | Slimest (ネバリーム) is a yellow variant. |
SlimeyΩ

SlimeyΩ is a gray variant.
Virus Stats by Game
Slimey

HP:

90

Element:

Damage:

30

Dropped:
MetaGel1
Location:
Yoka

Slimer

HP:

150

Element:

Damage:

60

Dropped:

MetaGel2

Location:
Undernet 1/2, Alpha

Slimest

HP:

220

Element:

Damage:

90

Dropped:

MetaGel3

Location:
Undernet 7

SlimeyΩ

HP:

300

Element:

Damage:

150

Dropped:
1000 Zenny
Location:
Job 25, Battle before BubbleManΩ
Metal Gel, known as Steal Jelly (スチールゼリー, Suchīru Zerī?) in Japan, is the Battle Chip from Slimey viruses.
Mega Man Battle Network 3
ID
Battle Chip
Description
Attack
Element
Code
Size
Rarity
Standard Chip 121
MetaGel1
Gel atk steals a panel!
90
Aqua
B,C,D,K,Y,*
18 MB
*
Standard Chip 122
MetaGel2
Gel atk steals a panel!
130
Aqua
E,F,G,P,S
28 MB
**
Standard Chip 123
MetaGel3
Gel atk steals a panel!
170
Aqua
G,H,S,T,U
38 MB
***
ID
Battle Chip
Description
Attack
Element
Code
Size
Rarity
Standard Chip 120
MetaGel
Gel attck steals a panel!
120
Aqua
K,T,Z
52 MB
****
ID
Battle Chip
Description translation
Attack
Element
Size
Rarity
Standard Chip 120
Steal Jelly
120
Aqua
52 MB
****
ID
Battle Chip
Description
Attack
Element
Code
Size
Rarity
Standard Chip 150
MetaGel
Gel atk steals a panel!
120
Aqua
F,N,T
52 MB
****
| ID | Battle Chip |
| --- | --- |
| 95 | Steal Jelly |