Sheep Man
Talk

11
3,633pages on
this wiki


Sheep Man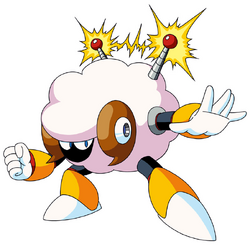 {{{nickname}}}
DWN-077
{{{numberb}}}
Information
In-Game Information

Command Mission Stats

Type
--
Level
Life Energy
--
--
Fire
--
Exp.
--
Water
--
Zenny
--
Thunder
--
FME
--
Power
Armor
Shield
Speed
--
--
--
--
Steal
Drop
--
--

List of Abilities
Ability
Effect
{{{ability1}}}
---
{{{ability2}}}
---
{{{ability3}}}
---
{{{ability4}}}
---
{{{ability5}}}
---
{{{ability6}}}
---
{{{ability7}}}
---
{{{ability8}}}
---
{{{ability9}}}
---
{{{ability10}}}
---
{{{ability11}}}
---
{{{ability12}}}
---
{{{ability13}}}
---
{{{ability14}}}
---
{{{ability15}}}
---

HP:
28
Attack Damage:
4
Weapon:
Thunder Wool
Weakness:
Rebound Striker
Misc. Information
Eye Color:
Blue
Series Information
In-game Appearances:
Mega Man 10

Sheep Man (シープマン, Shīpuman?) is a Robot Master from Mega Man 10. He can turn into four clouds of wool that hover in the air, and uses electric attacks.
Originally a sheep herding robot, he left that job to work in the static resistance test division of a circuit board manufacturer after one day noticing static build-up on his wool. But, being one that easily gets bored, it seems he was thinking about changing jobs again but he became infected with Roboenza.[1]
Strategy
Sheep Man only has two attacks normally. His first attack is the Thunder Wool, in which he will jump high into the air and split into four clouds of wool, which will each move to a different location. Then each wool will fire a thunderbolt to the ground that shocks a small area, and the last cloud will launch an electric spark along the floor, and then turn back into Sheep Man. This indicates that the last cloud to move/attack is him, if the player shoots it Sheep Man will take damage and fall, canceling the rest of the attack. His other attack is a fairly fast orb of electricity that bobs up & down.
On Easy Mode, none of Sheep Man's Thunder Wools create shockwaves or sparks.
On Hard Mode, the Thunder Wool clouds have far less delay in-between dropping thunderbolts. The first cloud will also launch sparks along the floor along with the last cloud. He also has a new attack in which he will hop in the direction he's facing. When he lands from a hop, he will release electric sparks across the floor.
His weakness is the Rebound Striker. It is not only a good weapon for reaching him while he's airborne, but it can also destroy his Thunder Wool clouds in one hit and cancel the attack completely if the player hits the cloud that changes into him.
Players using Bass can finish the battle quicker, as Bass can aim and shoot down Sheep Man when he has separated into clouds.
Damage Data Chart
Displays the amount of damage in units that Sheep Man will receive from each Special Weapon in Mega Man 10.
Sheep Man weaks to Rebound Striker take more damage the more the ball bounces, for a maximum of five units of added damage.
Stage enemies
Enemies in Sheep Man's stage, a Cyberworld-like arena.
Gallery
Trivia
Sheep Man was the first boss from Mega Man 10 revealed to the public. Since his introduction, he has received a widely negative reception, often appearing in top worst Robot Master listings.
Sheep Man is the only Robot Master in Mega Man 10 who has blue eyes in his official artwork.
The main reason Sheep Man is weak to the Rebound Striker is that electricity can't flow freely on rubber insulators.
References