Scrambler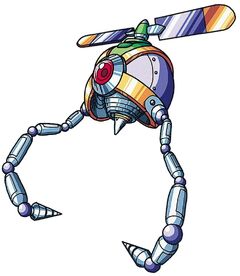 {{{nickname}}}
{{{number}}}
{{{numberb}}}
Information

Command Mission Stats

Type
--
Level
Life Energy
--
--
Fire
--
Exp.
--
Water
--
Zenny
--
Thunder
--
FME
--
Power
Armor
Shield
Speed
--
--
--
--
Steal
Drop
--
--

List of Abilities
Ability
Effect
{{{ability1}}}
---
{{{ability2}}}
---
{{{ability3}}}
---
{{{ability4}}}
---
{{{ability5}}}
---
{{{ability6}}}
---
{{{ability7}}}
---
{{{ability8}}}
---
{{{ability9}}}
---
{{{ability10}}}
---
{{{ability11}}}
---
{{{ability12}}}
---
{{{ability13}}}
---
{{{ability14}}}
---
{{{ability15}}}
---

Series Information
In-game Appearances:
Mega Man X2

Scrambler is a flying claw enemy in Mega Man X2. In the factory (intro stage), they appear completed, and a pipe in the ground with "cabins" is seen carrying and assembling them: legs, body and propeller. The fully completed Scramblers can be destroyed with a fully charged shot or three normal shots. The magnet platform traveling along the pipe, can also carry X if it is free.
Similar Enemies
Ad blocker interference detected!
Wikia is a free-to-use site that makes money from advertising. We have a modified experience for viewers using ad blockers

Wikia is not accessible if you've made further modifications. Remove the custom ad blocker rule(s) and the page will load as expected.