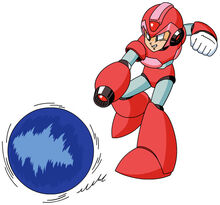 Rolling Shield (ローリングシールド, Rōringu Shīrudo?) is the Special Weapon that X obtains from defeating Armored Armadillo in Mega Man X and Mega Man Xtreme. When equipped, X fires a blue sphere of energy that rolls along the terrain and bounces off walls. When charged, a shield is created around X which can destroy minor enemies. The shield will remain active until it hits an enemy with over three hit points. In addition, X cannot fire the normal Rolling Shield while the Charged Version is active until the shield disappears.
In Mega Man Xtreme, using a charged Rolling Shield can render X invincible to spikes, however, it is not recommended for the player to climb up walls lined with them as it can cause X to become temporarily stuck between the sprites of the spikes themselves.
In Mega Man Maverick Hunter X, the size of an uncharged Rolling Shield is different: in the original game, the shield projectile is the same size as X himself, but in the remake, it is only half the size of X and moves half as fast, but it can now be used to take out Mets even when they are hiding in their helmets. This version also has the added ability of absorbing enemy projectile shots that are fired at the shield itself. There is an uncanny ability that can render X invulnerable to all of Armored Armadillo's projectile shots as well as Launch Octopus's Homing Torpedoes if X activates a charged Rolling Shield, both during the battle at the Sigma Fortress Stages (provided that X has already obtained the X-Buster Upgrade from Dr. Light or Zero) or in Free Play Mode.
In Mega Man X, Rolling Shield is Launch Octopus's and Vile's weakness and is the weapon of choice against Sigma's final form as it is the only special weapon that can damage this form. In Mega Man Xtreme, this was a primary weakness for Morph Moth, Serges and Sigma's final form.
Damage Data Charts
Mega Man X
Damage values in units in Mega Man X.
Rolling Shield
Boss
Damage
Normal
Charged
Chill Penguin
1
2
Spark Mandrill
1
2
Armored Armadillo
1
2
Launch Octopus
3
4
Boomer Kuwanger
1
2
Sting Chameleon
1
2
Storm Eagle
1
2
Flame Mammoth
1
2
Vile
4
4
Bospider
1
2
Rangda Bangda
1
2
D-Rex
1
2
Velguarder
1
2
Sigma: 1st Phase
1
1
Sigma: 2nd Phase
2
2
Mega Man Xtreme
Damage values in units in Mega Man Xtreme.
Rolling Shield
Boss
Damage
Normal
Charged
Vile
--
--
Chill Penguin
1
1
Spark Mandrill
1
1
Storm Eagle
1
1
Flame Stag
1
1
Armored Armadillo
1
1
Morph Moth
3
4
Magna Centipede
1
1
Wheel Gator
1
1
Zain
0
1
Geemel
1
1
Zain
0
1
Geemel
1
1
Bospider
1
1
Serges
3
4
Sigma: 1st Phase
1
1
Sigma: 2nd Phase
3
4
Screenshots
Mega Man X
Mega Man Xtreme
Ad blocker interference detected!
Wikia is a free-to-use site that makes money from advertising. We have a modified experience for viewers using ad blockers

Wikia is not accessible if you've made further modifications. Remove the custom ad blocker rule(s) and the page will load as expected.