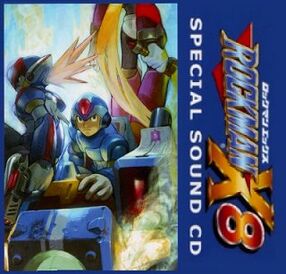 Rockman X8 e-Capcom Original Special Sound CD (ロックマンX8 e-Capcom オリギナルスペシャルサウンドCD?) is a soundtrack of Mega Man X8 that was included with the game as a pre-order bonus from e-Capcom.
Track list
01. Theme Of "Rockman X8" ~e-capcom Remix
02. Vs Maverick ~e ~e-capcom Remix (sic)
03. Opening
04. Appearance Of Lumine
05. Betrayal
06. Oncoming Generation
07. Problem
08. Fate to fight
External links
Ad blocker interference detected!
Wikia is a free-to-use site that makes money from advertising. We have a modified experience for viewers using ad blockers

Wikia is not accessible if you've made further modifications. Remove the custom ad blocker rule(s) and the page will load as expected.