Ad blocker interference detected!
Wikia is a free-to-use site that makes money from advertising. We have a modified experience for viewers using ad blockers

Wikia is not accessible if you've made further modifications. Remove the custom ad blocker rule(s) and the page will load as expected.
Rockman Sound Box 2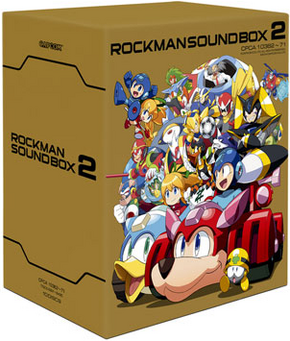 Information
Catalog Number:
CPCA-10362~71
Release Date:
December 17, 2014
Media Format:
CD
Publisher(s):
Suleputer
Rockman Sound Box 2 (ロックマン サウンドBOX 2, Rockman Sound Box 2?) is a soundtrack released on December 17, 2014 that contains music from several games in the original Mega Man series, most of them being released in a soundtrack for the first time.
Track list
Disc 1
Title
Password
Stage Select
Stage Start
Cut Man Stage
Ice Man Stage
Elec Man Stage
Fire Man Stage
Boss Battle
Stage Clear
Get a Weapon
Wily Castle Stage
Wily Station Stage
Ending
Unused
Rockman World 2:
Title / Wily Station Stage
Password
Stage Select
Stage Start
Clash Man Stage
Metal Man Stage
Wood Man Stage
Air Man Stage
Wily Castle
Hard Man Stage
Top Man Stage
Magnet Man Stage
Needle Man Stage
Wily Station
Boss Battle
Stage Clear
Get a Weapon
Ending
Unused
Rockman World 3:
Title
Password
Stage Select
Stage Start
Spark Man Stage
Gemini Man Stage
Snake Man Stage
Shadow Man Stage
Boss Battle 1
Stage Clear
Get a Weapon
Wily Castle / Wily Station
Wily Castle Stage
Dive Man Stage
Skull Man Stage
Drill Man Stage
Dust Man Stage
Wily Station Stage
Boss Battle 2
All Clear
Ending
Game Over
Disc 2
Title / Opening
Password
Stage Select 1
Stage Start
Toad Man Stage
Bright Man Stage
Pharaoh Man Stage
Ring Man Stage
Boss Battle 1
Stage Clear
Get a Weapon
Get Beat
Dr. Right Lab 2
Wily Station
Stage Select 2
Crystal Man Stage
Napalm Man Stage
Stone Man Stage
Charge man Stage
Boss Battle 2
Ballade Battle / Escape
Wily Battleship Stage
Final Battle
All Clear
Ending 1
Ending 2
Game Over
Unused 1
Unused 2
Unused 3
Unused 4
Rockman World 5:
Prologue
Title
Password
Dr. Right Lab 1
Stage Select
Stage Start
Mercury Stage
Venus Stage
Mars Stage
Neptune Stage
Dr. Right Lab 2
Jupiter Stage
Saturn Stage
Pluto Stage
Uranus Stage
Boss Battle
Stage Clear
Get a Weapon
Space Shooting Stage
Dark Moon Stage / Wily Star Stage
All Clear
Ending
Game Over
Blues
Unused 1
Unused 2
Unused 3
Unused 4
Disc 3
Capcom Logo
Opening
Title
File Select
Game Select / Dr. Right Lab
Rockman: Stage Select
Rockman: Game Start
Rockman: Cut Man Stage
Rockman: Guts Man Stage
Rockman: Ice Man Stage
Rockman: Bomb Man Stage
Rockman: Fire Man Stage
Rockman: Elec Man Stage
Rockman: Boss Battle
Rockman: Stage Clear
Rockman: Wily Stage 1
Rockman: Wily Stage 2
Rockman: Wily Stage Boss
Rockman: Ending
Rockman: Game Over
Rockman 2: Opening
Rockman 2: Title
Rockman 2: Continue
Rockman 2: Stage Select
Rockman 2: Game Start
Rockman 2: Metal Man Stage
Rockman 2: Air Man Stage
Rockman 2: Bubble Man Stage
Rockman 2: Quick Man Stage
Rockman 2: Clash Man Stage
Rockman 2: Flash Man Stage
Rockman 2: Heat Man Stage
Rockman 2: Wood Man Stage
Rockman 2: Stage Clear
Rockman 2: Get a Weapon
Rockman 2: Wily Stage Map
Rockman 2: Wily Stage 1
Rockman 2: Wily Stage 2
Rockman 2: Boss Battle
Rockman 2: All Stages Clear
Rockman 2: Ending
Rockman 2: Staff Roll
Rockman 2: Game Over
Rockman 3: Blues
Rockman 3: Title
Rockman 3: Game Over / Continue
Rockman 3: Stage Select
Rockman 3: Game Start
Rockman 3: Needle Man Stage
Rockman 3: Magnet Man Stage
Rockman 3: Gemini Man Stage
Rockman 3: Hard Man Stage
Rockman 3: Top Man Stage
Rockman 3: Snake Man Stage
Rockman 3: Spark Man Stage
Rockman 3: Shadow Man Stage
Rockman 3: Boss Batle
Rockman 3: Stage Clear
Rockman 3: Get a Weapon
Rockman 3: Wily Stage Map
Rockman 3: Wily Stage 1
Rockman 3: Wily Stage 2
Rockman 3: Wily Stage 3
Rockman 3: Wily Stage Boss
Rockman 3: All Stages Clear
Rockman 3: Ending
Rockman 3: Staff Roll
Disc 4
Rockman Mega World:
Wily Tower: Stage Select
Wily Tower: Game Start
Wily Tower: Buster Rod G Stage
Wily Tower: Mega Water S Stage
Wily Tower: Hyper Storm H Stage
Wily Tower: Boss Battle
Wily Tower: Stage Clear
Wily Tower: Wily Tower Map
Wily Tower: Wily Tower Stage 1
Wily Tower: Wily Tower Stage 2
Wily Tower: Wily Tower Stage 3
Wily Tower: Wily Tower Stage 4
Wily Tower: All Stages Clear
Wily Tower: Ending
Wily Tower: Game Over
Unused
SE Collection
Rockman & Forte (SFC):
Capcom Logo
Title
Data Select
Player Select
Stage Select
Stage Start
Dynamo Man Stage
Cold Man Stage
Ground Man Stage
Pirate Man Stage
Burner Man Stage
Magic Man Stage
Tengu Man Stage
Astro Man Stage
Boss Battle
Stage Clear
Get a Weapon
Shop
Crystal Gate Stage
King Stage
Wily Stage
Ending
Game Over
Data Base
Blues
Disc 5
Rockman & Forte (GBA):
Capcom Logo
Title
Data Select
Player Select
Opening Stage
Stage Select
Stage Start
Dynamo Man Stage
Cold Man Stage
Ground Man Stage
Pirate Man Stage
Burner Man Stage
Magic Man Stage
Tengu Man Stage
Astro Man Stage
Boss Battle
Stage Clear
Get a Weapon
Shop
Crystal Gate Stage
King Castle
King Stage
Wily Stage
King / Wily Battle
Ending
Game Over
Data Base
Title
Story Demo
Data Select
Option
Opening Stage
Player Select / Stage Select
Stage Start
Dangan Man Stage
Konro Man Stage
Aircon Man Stage
Komuso Man Stage
Clock Men Stage
Compas Man Stage
Boss Battle
Stage Clear (Unused)
Get a Weapon
Weapon Select / Shop
Rockman Shadow Stage
Final Battle
Ending
Game Over
SE Collection
Disc 6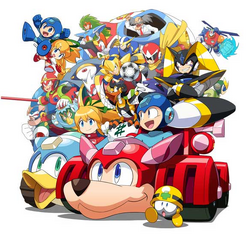 Rockman: The Power Battle (CPS1):
Title
Player Select
Stage Select (Rockman 1~2)
Stage Starting
Stage 1 (from Napalm man's Theme)
Stage 2 (from Clash man's Theme)
Stage 3 (from Guts man's Theme)
Stage Select (Rockman 3~6)
Stage 4 (from Gyro man's Theme)
Stage 5 (from Gemini man's Theme)
Stage 6 (from Shadow man's Theme)
Stage Clear
You Got New Weapon
Stage Select (Rockman 7)
Stage 7 (from Rockman 7)
Stage 8 (from Cloud man's Theme)
Stage 9 (from Slash man's Theme)
Stage 10 (from Freeze man's Theme)
Stage 11 (from Junk man's Theme)
Stage 12 (from Shade man's Theme)
Stage 13 (from "MAKAI")
VS Wily
Stage Wily Boss
Stage Wily Machine
Stage Wily Capsule
Continue
Game Over
Ending-Rockman 1
Ending-Forte
Ending-Blues
Ending-Rockman 2
Rockman Battle & Fighters:
Player / Stage Select
Stage Start
BGM 1 (from Shade man's Theme)
BGM 2 (from Cut man's Theme)
BGM 3 (from Rockman 2)
Stage Clear
You Got New Weapon / Continue
VS Wily
Wily Boss
Wily Capsule
Ending / Data Base
Disc 7
Rockman: The Power Battle (CPS2):
Title
Player Select
Stage Select (Rockman 1~2)
Stage Starting
Stage 1 (from Napalm man's Theme)
Stage 2 (from Clash man's Theme)
Stage 3 (from Guts man's Theme)
Stage Select (Rockman 3~6)
Stage 4 (from Gyro man's Theme)
Stage 5 (from Gemini man's Theme)
Stage 6 (from Shadow man's Theme)
Stage Clear
You Got New Weapon
Stage Select (Rockman 7)
Stage 7 (from Rockman 7)
Stage 8 (from Cloud man's Theme)
Stage 9 (from Slash man's Theme)
Stage 10 (from Freeze man's Theme)
Stage 11 (from Junk man's Theme)
Stage 12 (from Shade man's Theme)
Stage 13 (from "MAKAI")
VS Wily
Stage Wily Boss
Stage Wily Machine
Stage Wily Capsule
Continue
Game Over
Ending-Rockman 1
Ending-Forte
Ending-Blues
Ending-Rockman 2
SE Collection
Disc 8
Opening
Player Select
Course Select
VS. ~Stage Start~
Bubble man
Heat man
Gyro man
Shadow man
Stage Clear
Weapon Get
Cut man
Dive man
Stone man
Roll Rescued
Elec man
Shade man
Slash man
Ranking
Napalm man
Gemini man
Guts man
Neo Parts Reclaimed
Air man
Quick man
Pharaoh man
VS. ~Wily~
Wily Machine
Wily Capsule
Continue
Game Over
Escape
Rockman Ending 1
Rockman Ending 2
Blues Ending
Forte Ending 1
Forte Ending 2
Duo Ending 1
Duo Ending 2
SE Collection
Disc 9
Capcom Logo
Title
Password / Tournament
Sports News
Story Demo
Formation Select
Field Select
Kick Off
Rock Field
Skull Field
Cut Field
Wood Field
Elec Field
Pharaoh Field
Fire Field
Needle Field
Dust Field
Dr. Wily
Enker Field
Blues Field
Wily Field
Goal !
Blues (Short Ver.)
Blues (Long Ver.)
Ending 1 (Unused)
Ending 2 (Unused)
Game Over
SE Collection
Rockman: Battle & Chase:
ROCKMAN BATTLE&CHASE (Over The Top) ~Opening Demo~
ROCKMAN BATTLE&CHASE (Over The Top) ~Title Demo~
the straight out (PS original sound) ~Character Select~
soon... (PS original sound) ~Introducing Course DEMO~
Here goes! (PS original sound) ~Setting Machine DEMO~
CHASERS ~Future CITY Course~
dancing the eyes ~Mountain Course~
ESCAPE ~Cavern Course~
Are you gloomy? ~Toy's Factory Course~
dUEL ~WILY's Base Course~
secret party ~Space Course~
dimension shift ~Sky Course~
standing over there ~Ordnance Factory Course~
Over The Top (Piano Solo version) ~Staff Roll DEMO 1~
Over The Top (dance Mix version) ~Staff Roll DEMO 2~
Disc 10
Capcom Logo
Title
Wily Event
Opening Stage -Theme of Rockman-
Rock Event
Stage Select
Stage Start
Cut man Stage
Guts man Stage
Ice man Stage
Bomb man Stage
Fire man Stage
Elec man Stage
Time man Stage
Oil man Stage
Boss Battle
Stage Clear
You Got a New Weapon!
You Got a New Character
Stage Select 2
Wily Castle Stage 1
Wily Castle Stage 2
Wily Castle Boss Battle
Wily Machine Number 1 (1st form)
Wily Machine Number 1 (2nd form)
All Clear
Ending
Construction Select
Construction Halloween Stage
Construction Christmas Stage
Construction Makaimura Stage
Construction Japan Stage
Mission Clear
Mission Failed
Wily & Right's RockBoard: That's Paradise:
タイトル (Title)
モードセレクト (Mode Select)
グリーン大陸 (Green Continent)
コールド島 (Cold Island)
砂の大陸 (Continent of Sand)
メガロポリス (Megalopolis)
競売 (Auction)
ラッキーカード (Lucky Card)
ボスカード (Boss Card)
レゲーカード / アンラッキー (Reggae Card / Unlucky)
ボスカード使用 (Boss Card Use)
順位発表 (Rank Presentation)
メットールレース (Metall Race)
スタッフロール (Staff Roll)
未使用曲 (Unused Music)
Extra tracks:
ROCKMAN ARRANGE VERSION (from Capcom Game Music Vol. 2)
ROCKMAN 2 ARRANGE VERSION
Get A Flash Stopper!! (ROCKMAN 4) (from Captain Commando -G.S.M. Capcom 5-)
Mega Man 8 Opening Theme
スーパーアドベンチャーロックマン 「バトルテーマ」 (Super Adventure Rockman "Battle Theme")
KAZEよ 伝えて (Game version) ~ROLL Special Ending~ (Kaze yo Tsutaete, from Rockman: Battle & Chase)
あ~ 男一代 (Game version) ~GUTS MAN Special Ending~ (Ah Otoko Ichidai, from Rockman: Battle & Chase)
See also