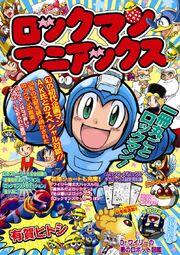 Mega Man Maniax, known as Rockman Maniax (ロックマンマニアックス, Rokkuman Maniakkusu?) in Japan, is series of short, comical stories by Hitoshi Ariga that were originally published in Comic BomBom between 1997-1998, and five of the Mega Man Maniax shorts were included in the 2003 releases of the Mega Man Megamix manga alongside other short stories.
In July 11, 2011 a 420-page compilation of the Rockman Maniax stories was published. The compilation was re-released in 2015 with more content, separated in two volumes. Besides Mega Man Maniax, the compilations includes the stories from Rockman Remix, the short stories that were in the 2003 releases of Mega Man Megamix, the Rockman 9 Arrange Soundtrack manga, Ariga's shorts from Rockman 4Koma Dai Koushin, character profiles from the Mega Man Megamix and Mega Man Gigamix characters (plus extra profiles for characters that didn't appear, such as Enker and Time Man) and extra contents such as stories that were only included in Comic BomBom.
Release Information
Rockman Maniax
Publisher
BN Comics
Release date
July 11, 2011
Country
Japan
ISBN
Contents
Several
"New Edition Rockman Maniax - Top: Early Works & 4 Koma Ed."
(新装版 ロックマンマニアックス 上 初期作品&4コマ編
Shinsō-ban Rokkuman Maniakkusu-jō Shoki Sakuhin & 4koma-hen)
Publisher
Fukkan
Release date
2015
Country
Japan
ISBN
Contents
Rockman Maniax vol. 0 to 10 plus extra edition, short comics, Rockman's Soccer comics, Rockman World 1-5 comics, other short comics and one-shots, talk with A.K. (Akira Kitamura), and more.
"New Edition Rockman Maniax - Bottom: Short Stories, Settings, and Talk Ed."
(新装版 ロックマンマニアックス 下 短編・設定&対談編
Shinsō-ban Rokkuman Maniakkusu-ka Tanpen Settei & Taidan-hen)
Publisher
Fukkan
Release date
2015
Country
Japan
ISBN
Contents
Several
Content
Mega Man Maniax
The Mega Man Maniax shorts have a variety of content, such as essays and gag comics. Readers could also participate during its original publication, including sending time attacks, suggesting which robot Wily should introduce, and submitting characters to Dr. Auto's Laboratory.
Mega Man Maniax is mainly composed of four sections:
Talk with Guest Characters: Hitoshi Ariga talks with Mega Man characters.
Dr. Auto's Laboratory: Auto tries to create one robot in each story, the Dr. Auto Numbers, but they don't work well and accidentally hurt Dr. Light when they explode in the end. Bass later fights against his robots.
Monthly Justice: Short stories with Duo talking with a Robot Master, which ends with Duo thinking they are doing something wrong and punishing them.
Dr. Wily's Animal Kingdom: Dr. Wily introduces animal robots in a comical way.
Vol.
Talk with Guest Characters
Dr. Auto's Laboratory
Monthly Justice
Dr. Wily's Animal Kingdom
1
Hitoshi Ariga talks with Mega Man and Dr. Wily.
Auto introduces Suprise Man.
Duo was going to shake hands with Sword Man, but Sword Man accidentally rises the arm with his sword, and Duo throws him far away with an uppercut, leaving his lower half behind.
Dr. Wily introduces Friender and is burned by him.
2
Hitoshi Ariga talks with Dr. Cossack and Kalinka
Auto introduces Shake Man, who ends up blending himself and exploding.
Duo recycles Junk Man.
Dr. Wily introduces Tama and is attacked.
3
Hitoshi Ariga talks with Roll.
Auto introduces Giga Auto, which explodes and sends Auto and Dr. Light to space.
Duo punches Clown Man.
To Wily's shock, his section was replaced by a Time Attack challenge for Mega Man: Battle & Chase.
4
Hitoshi Ariga talks about the mysterious Proto Man with Dr. Light, Dr. Cossack, Kalinka, Bass, and Heat Man, but they are unable to reach a conclusion about him.
As Auto's last creation caused Dr. Light to end in the hospital, he created Message Man to help him recover, but it makes things worse.
Duo is having fun with Bubble Man, Dive Man, Wave Man, and Aqua Man, and punches Aqua Man.
Dr. Wily introduces Moby alongside Dive Man, and they end up being swallowed by the whale. Wily wonders if Pinocchio will rescue them.
5
Hitoshi Ariga and the guests continue talking about the mysterious Proto Man.
Auto creates TV Man, and when Cut Man asks where Dr. Light is, he tries TV Man's abilities on him, resulting on another explosion.
Monthy Justice was skipped to show the results of a Mega Man 8 Time Attack, the first place completing in one hour, 11 minutes, and 38 seconds.
Dr. Wily introduces Shirokumachine GTV alongside Freeze Man.
6
Ariga, Double, and Dr. Doppler's assistant from Rockman Remix talk about Mega Man X4 in Rockman X Maniax.
?
?
?
7
Vol. 7 focuses on Dr. Auto's Laboratory, having Bass fighting against four of the robots created by Auto: Message Man, Suika Man, Sensuikan Man, and Suprise Man.
8
Vol. 8 has Bass fighting against the remaining four robots from Dr. Auto: Shake Man, Sexy Man, Giga Auto, and TV Man.
9
?
10
?
Extra
Extra volume included in the compilations.
Mega Man's Soccer
Mega Man's Soccer is a large series of many small, comedic comic strips based on Mega Man's Soccer, written during 1994 in Comic BomBom and included in the 2003 releases of Mega Man Megamix and the Rockman Maniax compilations. In an interesting note, Ariga writes in a preview right before the strips they were released before the actual game did, and he did his best to represent the game using previews from magazines, but unfortunately, after they were published, it turned out much different than the actual game. Below are the sections for the comics:
Run Towards Tomorrow - This series of comic strips start off with Dr. Wily, who wanted to simply challenge Mega Man to a soccer game, but, to his robots from Mega Man 2, he is strangely thrown into jail. Throughout the strips, the Mega Man 2 Robot Masters try challenging other Robot Masters from other games, yet from usually they end up disastrous. In the end, Proto Man gets Dr. Wily out of jail, and shows him that his robots did what he requested.
Full of Energy, Full of Dreams! - In this series, the Robot Masters show off their unique soccer fields, including a top of a train, field of moving gears, and a star field. However, when Mega Man tries them, they usually end up to be unplayable, or just bad environments, and he ends up going home. However, at the end, Wily tries to show off his field, but nobody was there. (Humorously, it was filled with spikes and Appearing Blocks.) This series was also published in Rockman 4Koma Dai Koushin.[1]
Enter the Ultimate Team Members!! - In this series, Dr. Wily attempts to beat Mega Man by using several fortress boss characters from the games as players. However, they surprisingly lose easily 38 to nothing, as they were either stationary, flying, or useless.
Roll's Soccer - Wanting to participate in soccer games, Mr. X builds Roll several copies of herself to let her participate, but with the truthful intention of defeating Mega Man. At first, Roll doesn't even know how to play, everybody is happy, but to Mr. X's dismay. As a result, he places "Wily Chips" in the copies and makes them evil, but he is defeated when one of the copies is hit in the head and coughs out the chip, and Mega Man attacks Mr. X/Dr. Wily.
Rise of the Little Guys!! - The story begins with a Met, Spine, and Bomber Pepe watching them people play soccer, wanting to play soccer themselves. As a result, the Met challenges all of the robot masters and the minor characters begin playing. As a result, the robots "fire" them, and they willingly quit, but end up on a winning streak and beat them, sending the Robot Masters into depression.
Rockman's Soccer is Eternal Hopelessness - In this last series, the Robot Masters are still depressed, and they refuse to play anymore. As a result, the Mega Man Killers begin to join in the tournament (but they are immediately disqualified as they quit their first match, as they want to only face Mega Man), along with upgraded fortress bosses, the minor characters, and the now undepressed Robot Masters.
Rockman World
Short stories based on the Game Boy games.
Gallery
References