Ad blocker interference detected!
Wikia is a free-to-use site that makes money from advertising. We have a modified experience for viewers using ad blockers

Wikia is not accessible if you've made further modifications. Remove the custom ad blocker rule(s) and the page will load as expected.
Rockman Holic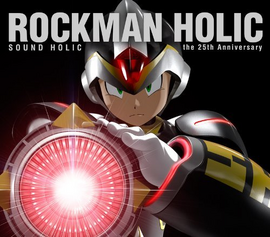 Information
Release Date:
December 19, 2012
Release Price:
1980 JPY
Media Format:
CD
Publisher(s):
Victor Entertainment
Rockman Holic ~The 25th Anniversary~ is a soundtrack produced by SOUND HOLIC released on December 19, 2012, commemorating the 25th anniversary of the Mega Man franchise. For a limited time it will include a Rockman ×over serial code for the Special Battle Memory "Zero".
Track list
#
Title
Origin
Staff
01
GAME START
Rockman 2:
Opening / Title / Stage Select /
Game Start / Metal Man Stage /
Staff Roll
Arrange: MasKaleido
02
X-Buster
Rockman X5:
X vs Zero / Zero Stage 1 / Opening Theme
Lyrics: Blue E
Rap Lyrics: ナノ
Arrange: 8STYLE
Melody Arrange: Nana Takahashi
Guitar: Sub.T
03
Shooting Star
Rockman 10:
Nitro Rider (Nitro Man Stage)
Vocal: anporin
Lyrics: Blue E
Arrange: MasKaleido
Guitar: Josh
04
黄昏ロンリネス

("Twilight Loneliness")
Rockman 5:
Darkman Stage
Vocal and Arrange: 709sec.
Lyrics: Blue E
Guitar: Josh
05
NAPALM JAZZ
Rockman 5:
Napalm Man Stage
Vocal: A~YA
Lyrics: Blue E
Arrange: 709sec.
Guitar: Josh
06
BLIZZARD
Rockman 6:
Blizzardman Stage
Arrange and Guitar: 8STYLE
07
We're The Robots
Rockman 9:
We're the Robots (Dr. Wily Stage 2)
Vocal: aki
Lyrics and Arrange: 隣人 (CYTOKINE)
Guitar: Josh
08
GALAXY FANTASY
Rockman 9:
GALAXY FANTASY (Galaxy Man Stage)
Vocal: ゴム
Lyrics: Blue E
Arrange: 709sec.
09
カットマンブルース

("Cut Man Blues")
Rockman:
Cut Man Stage
Vocal: 野沢雅子
Lyrics: Blue E
Arrange: 709sec.
Piano: panoman
Guitar: Josh
10
Dr.Wily Numbers 022
Rockman 3:
Title / Snake Man Stage /
Boss / Get a Weapon
Arrange: 隣人 (CYTOKINE)
11
Flash in the Dark
Rockman 9:
Flash in the Dark (Dr. Wily Stage 1)
Vocal: 森田成一
Chorus: 709sec.
Lyrics: Blue E
Arrange and Guitar: Josh
Melody Arrange: Nana Takahashi
Programming: 8STYLE
12
Together As One
Rockman 2:
Dr. Wily Stage 1
Vocal and Lyrics: ナノ
Arrange: 709sec.
Guitar: Josh
13
THE LAST BATTLE
Rockman 5:
Dr. Wily Stage / Last Boss
Arrange: zikee
14
エアーマンが倒せない (SOUND HOLIC Ver.)
Air Man ga Taosenai arrange
Vocal: 花たん
Lyrics: せら、たかにそ
Compose: せら
Arrange: MasKaleido
Guitar: Josh
15
太陽はいつも君のそばに

("The Sun Always Beside You")
Rockman X3:
Ending / Cast Roll
Vocal: 岸尾だいすけ
Chorus: 709sec.
Lyrics and Arrange: Nana Takahashi
Organ: panoman
Guitar: Josh
16
RELOADED
SOUND HOLIC original
Vocal and Lyrics: Nana Takahashi
Rap: 709sec.
Compose: GUCCI
Arrange: SHU
Guitar: Josh
Gallery
Trailer
External Links