Rockman DASH Original Soundtrack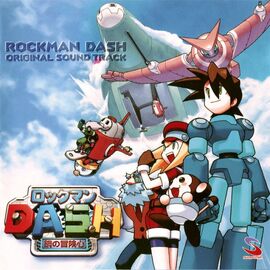 Information
Catalog Number:
CPCA-1003
Release Date:
February 21, 1998
Release Price:
2100 JPY
Media Format:
CD
Publisher(s):
Suleputer
Rockman DASH Original Soundtrack (ロックマンDASH オリジナルサウンドトラック, Rockman DASH Original Soundtrack?) is the soundtrack of the game Mega Man Legends. It was released on February 21, 1998 in Japan.
Track listing
Notes from tracks 1 and 40: "(lyrics by Tomari Fumi, composed by Fukada Taro, sung by Morishita Reika)"
Ad blocker interference detected!
Wikia is a free-to-use site that makes money from advertising. We have a modified experience for viewers using ad blockers

Wikia is not accessible if you've made further modifications. Remove the custom ad blocker rule(s) and the page will load as expected.