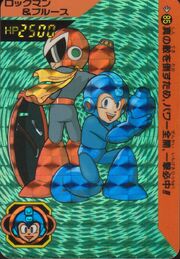 Rockman (ロックマン, Rockman) is a series of Mega Man Carddass released by Bandai in Japan from 1992 to 1995.
Card list
Each series contains 42 cards, the first six cards of each series being foil cards.
Cards with their names in italic means they are not named in the front side of the card.
Series 1
The first series of Rockman Carddass is based on Mega Man 4, and also has eight cards from Mega Man 3.
Series 2
The second series is based on the games Mega Man, Mega Man 2, Mega Man 3, Mega Man: Dr. Wily's Revenge (Rockman World) and Mega Man II (Rockman World 2).
Series 3
The third series is mainly based on Mega Man 5, and also includes some pictures from Mega Man III and Wily & Right's RockBoard: That's Paradise.
Notes: Wily Machine (ワイリーマシン, Wily Machine) is written as "ワイリーマシーン" in cards 87 and 118. Cards 107 and 115 are misspelled as "Metall K-100" and "Big Bets". Card 121 is actually the "New Rush Coil" from Mega Man 5.
Series 4
The fourth series is based on Mega Man 6 and Mega Man IV.
Series 5
This card series is based on the Game Boy game Mega Man V.
Note: The Brain Crusher is called Wily Machine in card 204.
Series 6
The last Rockman series of Carddass is based on Mega Man 7. The front of the cards don't follow the numbering of previous series, going from 1 to 42, but the numbering continues in the cards back. Cards 212 and 213 form a panorama when placed together.
| No. | Card | HP |
| --- | --- | --- |
| 211 | Rockman | 2500 |
| 212 | Cloud Man Junk Man Turbo Man Slash Man | 5400 |
| 213 | Burst Man Shade Man Spring Man Freeze Man | 6200 |
| 214 | Rockman vs. Forte | --- |
| 215 | Rockman vs. Wily Machine 7 | --- |
| 216 | Rockman 7 | --- |
| 217 | Rockman (Wild Coil) | 1600 |
| 218 | Rockman (Thunder Strike) | 1200 |
| 219 | Rockman (Junk Shield) | 1800 |
| 220 | Rockman (Burning Wheel) | 1400 |
| 221 | Rockman (Freeze Cracker) | 1500 |
| 222 | Rockman (Slash Claw) | 1500 |
| 223 | Rockman (Danger Wrap) | 1100 |
| 224 | Rockman (Crash Noise) | 1700 |
| 225 | Spring Man | 1500 |
| 226 | Cloud Man | 1100 |
| 227 | Junk Man | 1200 |
| 228 | Turbo Man | 1700 |
| 229 | Freeze Man | 1300 |
| 230 | Slash Man | 1400 |
| 231 | Burst Man | 1800 |
| 232 | Shade Man | 1600 |
| 233 | Forte & Gospel | 6800 |
| 234 | Dr. Wily | Wily Mecha +100 |
| 235 | Rockman vs. Springman | --- |
| 236 | Rockman vs. Cloudman | --- |
| 237 | Rockman vs. Junkman | --- |
| 238 | Rockman vs. Turboman | --- |
| 239 | Rockman vs. Freeze Man | --- |
| 240 | Rockman vs. Slash Man | --- |
| 241 | Rockman vs. Burst Man | --- |
| 242 | Rockman vs. Shade Man | --- |
| 243 | Super Rockman (Booster Jump) | Rockman +200 |
| 244 | Super Rockman (Rocket Buster) | Rockman +200 |
| 245 | Dr. Right, Roll-chan, Rightot | Rockman +200 |
| 246 | Rush | Rockman +200 |
| 247 | Rush, Eddie, Beat | Rockman x2 |
| 248 | Rockman | 1500 |
| 249 | Rockman | 1000 |
| 250 | Rockman & Beat | Rockman +200 |
| 251 | Blues | 1900 |
| 252 | Rockman 7 | --- |
External links