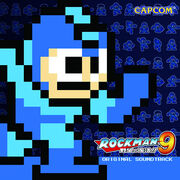 Rockman 9 Original Soundtrack
(

ロックマン9 オリジナルサウンドトラック

?

)
is the soundtrack album from the game
Mega Man 9
. It was released by Inti Creates in September 12, 2008 in Japan.
Track list
Opening 1
Opening 2
Opening 3
Title
Menu
Stage Select
Game Start
Concrete Jungle (Concrete Man's stage)
Thunder Tornado (Tornado Man's stage)
Splash Blue (Splash Woman's stage)
Plug Electric (Plug Man's stage)
Jewel Temptation (Jewel Man's stage)
Hornet Dance (Hornet Man's stage)
Magma Burning (Magma Man's stage)
Galaxy Fantasy (Galaxy Man's stage)
Boss
Stage Clear
Get a Weapon
Shop
Rush Jet
Suspense
Dr. Wily UFO
Dr. Wily Castle
Flash in the Dark (Dr. Wily stage 1)
We're the Robots (Dr. Wily stage 2)
Strange World (Dr. Wily stage 3)
Castle of Evil (Dr. Wily stage 4)
Wily Machine
Ending
Staff Roll
Overdrive Scramble (Special Stage)
Maze of Death (Endless Stage)
Game Over
Old SE
New SE
See also
External links
Ad blocker interference detected!
Wikia is a free-to-use site that makes money from advertising. We have a modified experience for viewers using ad blockers

Wikia is not accessible if you've made further modifications. Remove the custom ad blocker rule(s) and the page will load as expected.