Ad blocker interference detected!
Wikia is a free-to-use site that makes money from advertising. We have a modified experience for viewers using ad blockers

Wikia is not accessible if you've made further modifications. Remove the custom ad blocker rule(s) and the page will load as expected.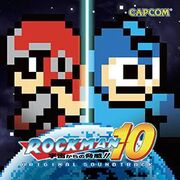 Rockman 10 Original Soundtrack (ロックマン10 オリジナルサウンドトラック, Rockman 10 Original Soundtrack?) is the soundtrack album from the game Mega Man 10. It was released by Inti Creates in March 24, 2010 in Japan. The soundtrack has 46 tracks (one being a collection of sound effects), and a 12 pages booklet with details of the game, comments from producers, and one guest illustration and comment from Shigeto Ikehara, the illustrator of the Rockman manga.
Track list
Rockman 10 Original Soundtrack
Usual Day
Future World
Suspicion
Go Together
Title
Menu
Stage Select
Game Start
King of Blades (Blade Man Stage)
Polluted Pump (Pump Man Stage)
Desert Commando (Commando Man Stage)
Absolute Chill (Chill Man Stage)
Cybersheep's Dream (Sheep Man Stage)
Fireball Strike (Strike Man Stage)
Nitro Rider (Nitro Man Stage)
Solar Inferno (Solar Man Stage)
Boss
Stage Clear
Get a Weapon
Shop -Rock-
Shop -Blues-
Shop -Forte-
Crisis
Evil Wily
For You -Roll's Theme-
Silent Rain (Dr. Wily Stage 1)
Dr. Wily Stage Boss
Abandoned Memory (Dr. Wily Stage 1)
Against the Pressure (Dr. Wily Stage 2)
No Turning Back (Dr. Wily Stage 3)
Stairway to Darkness (Dr. Wily Stage 4)
Dr. Wily Castle -Final-
Deep in Space (Dr. Wily Stage 5)
All Stage Clear
After All
Staff Roll
Challenges
Endless Struggle (Endless Stage)
Heart of Enker (Special Stage 1)
Get the Punk Out (Special Stage 2)
Farewell to Ballade (Special Stage 3)
Game Over
Sound Effects
Inti Bonus Disc Vol. 1
If the soundtrack was ordered from the site e-Capcom, it comes with an extra disc called "Inti Bonus Disc Vol. 1", which contains 4 new tracks and 9 tracks from previous releases.
Rockman 10 Title -Arrange Version-
Nitro Rider -2A03 Chip Rock mix by Hally-
Rockman 9 8boss Stage Non-Stop Mixture
Chiptuned Rockman Magnetic Piece Edit
Galaxy Fantasy (from Rockman 9 Arrange Soundtrack)
Thunder Tornado (from Rockman 9 Arrange Soundtrack)
Esperanto (from Remastered Tracks Rockman Zero Physis)
Caravan -Hope for Freedom- (from Remastered Tracks Rockman Zero Physis)
Break Out (from Remastered Tracks Rockman Zero Telos)
Deperture (from Remastered Tracks Rockman Zero Idea)
Theme of ZERO (from Remastered Tracks Rockman Zero)
Area of ZERO / Main Theme of ZERO (from Remastered Tracks Rockman Zero)
Innocence (from ZX Tunes)
See also
External links