Ad blocker interference detected!
Wikia is a free-to-use site that makes money from advertising. We have a modified experience for viewers using ad blockers

Wikia is not accessible if you've made further modifications. Remove the custom ad blocker rule(s) and the page will load as expected.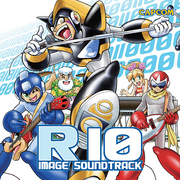 Rockman 10 Image Soundtrack (ロックマン10 イメージサウンドトラック, Rockman 10 Image Soundtrack?) is a soundtrack album with arranged musics from the game Mega Man 10. It was released by Inti Creates in April 30, 2010 in Japan. The soundtrack comes with a 28 page booklet with comments from arrangers, an enemy gallery, and a 16 page manga called Rockman 10 -Extra F- by Kōji Izuki.
Track list
Introduction
Title
King of Blades
Polluted Pump
Desert Commando
Absolute Chill
Boss
Cybersheep's Dream
Fireball Strike
Nitro Rider
Solar Inferno
Dr. Wily Manifesto
For You
Abandoned Memory
Against the Pressure
No Turning Back
Dr. Wily Stage Boss
Close to the End
Nemesisphere
Last Exit
? ? ? (A secret, hidden track not mentioned in the track list)
See also
External links