Rockman.EXE Game Ongaku Dai Zenshuu - Rockman.EXE 4 & 4.5 & 5
Talk

0
Share
Ad blocker interference detected!
Wikia is a free-to-use site that makes money from advertising. We have a modified experience for viewers using ad blockers

Wikia is not accessible if you've made further modifications. Remove the custom ad blocker rule(s) and the page will load as expected.
Rockman.EXE Game Ongaku Dai Zenshuu - Rockman.EXE 4 & 4.5 & 5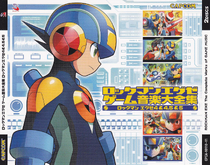 Information
Catalog Number:
CPCA-10110~1
Release Date:
March 16, 2005
Published Format:
Commercial
Release Price:
3,360 Yen
Media Format:
2 CDs
Classification:
Original Soundtrack
Publisher(s):
Suleputer
Composers(s):
Akira Kaida
Toshihiko Horiyama
Rockman.EXE Game Music Complete Works - Rockman.EXE 4 & 4.5 & 5 (ロックマン エグゼ ゲーム音楽大全集 ロックマン エグゼ4&4.5&5) is the soundtrack album covering BGMs through the Mega Man Battle Network games 4, 4.5 and 5 . It was released on March 16, 2005 for Japan only.
Track listing
Disc 1
Theme of ROCKMAN EXE4
ANSA
Hometown
In the Room
Electric Town
Incident Occurrence!
Transmission!
Invisible Wing
Cyber Battle
Enemy Deleted!
Silent Darkness
Densan Stadium
Player Admission
Battle Pressure
Great Victory!
Global Network
Cielo Castillo
Dracula's Mansion
Story of Wonder
Vampire
Versus
Fighting Oneself
Navi Customizer
Determined Journey
Heel's Parade
Sad Rain
Under Justice
Save Our Planet
Game Over
Loser
VS. Duo
Your Answer
Introduction
Theme of ROCKMAN EXE4.5
PET Display
Theme of Rockman
Theme of Roll
Theme of GutsMan
Theme of NumberMan
Theme of FireMan
Theme of WoodMan
Theme of WindMan
Theme of SearchMan
Theme of AquaMan
Theme of ThunderMan
Theme of MetalMan
Theme of JunkMan
Theme of Blues
Theme of StarMan
Theme of NapalmMan
Theme of IceMan
Theme of ElecMan
Theme of PlantMan
Theme of KnightMan
Theme of ShadowMan
Theme of Forte
Disc 2
Life in the Network
Battlefield
Drill System
Lecture
Awaken the Wind!
Search Mission
Metal Shooting!
Napalm Bomb!
Ice Puzzle
Tournament Under Way
Tournament Battle
Deep Inside
Chaos Area
The Fighter's Soul
Champion!
All Cast
Theme of ROCKMAN EXE5
Theme of Nebula
Hometown
In the Room
Scientific Forefront
Incident Occurrence!
Transmission!
Seek a Cord
Battle Start!
Enemy Deleted!
Oran Island
Abandoned Mine
Drill Crush!
Network Space
Black Power
Liberate Mission
Powerful Enemy
Liberation Complete!
Navi Customizer
Luxury Liner
Quest in the Water
End City
Castle of NINJA!
Depth
A Heart's Shadow
You're Not Alone!
Dark Chip Factory
A Total War
Trial
1 Turn Liberate!
Game Over
Loser
VS. Nebula Grey
Chain of Wish
Theme of ROCKMAN EXE4.5 ~Promotion MIX~
Theme of ROCKMAN EXE5 ~Promotion MIX~