Rockman.EXE Game Ongaku Dai Zenshuu - Rockman.EXE 1~3
Talk

0
Share
Ad blocker interference detected!
Wikia is a free-to-use site that makes money from advertising. We have a modified experience for viewers using ad blockers

Wikia is not accessible if you've made further modifications. Remove the custom ad blocker rule(s) and the page will load as expected.
Rockman.EXE Game Ongaku Dai Zenshuu - Rockman.EXE 1~3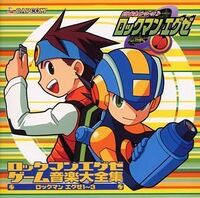 Information
Catalog Number:
CPCA-1069~70
Release Date:
December 18, 2002
Published Format:
Commercial
Release Price:
3,360 Yen
Media Format:
2 CDs
Classification:
Original Soundtrack
Publisher(s):
Suleputer
Composers(s):
Akari Kaida
Yoshino Aoki
Rockman.EXE Game Music Complete Works -Rockman.EXE 1~3 - (ロックマン エグゼ ゲーム音楽大全集 ロックマン エグゼ1~3, Rockman.EXE Game Ongaku Dai Zenshuu -Rockman.EXE 1 ~ 3 -) is the soundtrack of the Mega Man Battle Network series. It was released in December 18, 2002.
Track listing
Disc 1
01 - THEME OF ROCKMAN EXE
02 - Hometown
03 - School
04 - Interior
05 - Doubtful Mood
06 - Incident Occurring!
07 - Transmission!
08 - FIRE FIELD
09 - RUNNING THROUGH THE CYBER WORLD
10 - BOUNDLESS NETWORK
11 - Time of Destiny
12 - COLD & SILENT
13 - RED OR BLUE
14 - ELECTRICAL CRISIS
15 - VOID
16 - Operation!
17 - Net Battle
18 - VS Dream Virus
19 - WINNER!
20 - GAME OVER
21 - LOSER
22 - end roll
23 - THEME OF ROCKMAN EXE2
24 - Secret Maneuver
25 - Hometown
26 - In the Den
27 - Marine Harbor
28 - Official Center
29 - Going on a Journey
30 - Foreign Town
31 - Castle
32 - By Street
33 - Underground Prison
34 - Sky Travel
35 - Determination
36 - Doubtful Mood
37 - Incident Occurring!
38 - Vicinity
39 - Courageous Proof
40 - Transmission!
41 - SMOKY FIELD
42 - TIME LIMIT
43 - SERIOUS MISSION,A
44 - FEAR IN THE CASTLE
45 - MAGNETIC AIRPLANE
46 - YOU CAN'T GO BACK
47 - INTERNET WORLD
48 - FEARFUL
49 - AND YOU WILL KNOW THE TRUTH
50 - Virus Busting
51 - Battle Spirit
52 - VS Gospel
53 - Changing Style
54 - PRESSURE
Disc 2
01 - THEME OF ROCKMAN EXE3
02 - WWW Theme
03 - Hometown
04 - Tree of Life
05 - Yokayoka Village
06 - Town of Salty Winds
07 - Scientific Forefront
08 - TV Station
09 - N1 Grand Prix!
10 - Hell Island
11 - Wily's Laboratory
12 - Doubtful Mood
13 - Incident Occurring!
14 - Wipe Away the Tears
15 - Courageous Proof
16 - Transmission!
17 - BLIND MODE
18 - MAZE OF WILDNESS
19 - SAVE A LIFE
20 - FINAL TRANSMISSION
21 - NETWORK IS SPREADING
22 - DANGEROUS BLACK
23 - SHINE IN THE DARK
24 - Shooting Enemy
25 - Boss Battle!
26 - VS Professional
27 - Great Battlers
28 - Confrontation!
29 - Navi Customizer
30 - farewell
31 - THEME OF ROCKMAN EXE ~TGS 2002 mix~
32 - Navi Customizer ~free mode~
33 - Tree of Life ~Piano Arrange~
34 - farewell ~Vocalise~