Remote Mine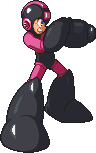 Mega Man and Bass equipped with Remote Mine.
Weapon Information
Script:
リモートマイン
Romaji:
Rimōto Main
In-Game Information
Obtained from:
Pirate Man
Trajectory:
Remote control
Effect:
Detonate
Effective against:
Ground Man
User(s):
Mega Man, Bass
Attack damage:
Against Enemies:
2 (per hit)
Cost:
3 units
1½ units (with Energy Saver)
Capacity:
10 uses
19 uses (with Energy Saver)
Series Information
In-game appearances:
'Mega Man & Bass

Remote Mine (リモートマイン, Rimōto Main?) is Pirate Man's Special Weapon from Mega Man & Bass. When equipped, the user fires a remote mine that can be controlled by using the D-pad, and can be detonated by the player at any time. The weapon is capable of sticking on enemies and walls. Mega Man and Bass can use only one Remote Mine at time, but Pirate Man can use three Remote Mines in a row.
Remote Mines are Ground Man's weakness. The player can prevent Ground Man from going underground by attaching a Remote Mine to him, as it will detonate when he attempts to dig. It can also destroy ice blocks.
Damage Data Chart
Damage values in units in Mega Man & Bass.
Remote Mine
Boss
Damage
Green Devil
2
Cold Man
1
Burner Man
1
Pirate Man
1
Ground Man
4
Tengu Man
1
Magic Man
1
Astro Man
1
Dynamo Man
1
Atetemino Proto
1
King
1
Jet King Robo
0
Wily Machine
3
Wily Capsule
1
Gallery
Screenshots
See also
Similar Weapons
Ad blocker interference detected!
Wikia is a free-to-use site that makes money from advertising. We have a modified experience for viewers using ad blockers

Wikia is not accessible if you've made further modifications. Remove the custom ad blocker rule(s) and the page will load as expected.