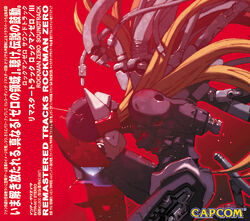 Remastered Tracks Rockman Zero (RTRZ) is the first of four albums published by INTI CREATES and Capcom Japan, containing all the remastered tracks used in Rockman Zero plus some drama tracks enlarging the story in the series. This album was released only in Japan and the original price was set as ¥2800.
It includes 21 remastered tracks, two of which were taken from the original Mega Man X, and five drama tracks.
Track listing
Title
*Ciel's Memory _ Prologue
The ruins of lab
Captive Legend
Cyberelf
Theme of ZERO (from Rockman X)
Guarder Room
Crash
Result of Mission
*Ciel's Memory _ Rebirth from ZERO
Intermission
Resistance
Express UG
Deadzone
Scorching Desert
*Ciel's Memory _ The Big Four
Hell Plant
Infiltration
Emergency
Enemy Hall
Neo Arcadia
*Ciel's Memory _ Truth of Hero
Fake
*Ciel's Memory _ Epilogue
For Endless Fight
Area of ZERO / Main Theme of ZERO
External Links
Ad blocker interference detected!
Wikia is a free-to-use site that makes money from advertising. We have a modified experience for viewers using ad blockers

Wikia is not accessible if you've made further modifications. Remove the custom ad blocker rule(s) and the page will load as expected.