Rainy Turtloid
{{{nickname}}}
{{{number}}}
{{{numberb}}}
Information
In-Game Information

Command Mission Stats

Type
--
Level
Life Energy
--
--
Fire
--
Exp.
--
Water
--
Zenny
--
Thunder
--
FME
--
Power
Armor
Shield
Speed
--
--
--
--
Steal
Drop
--
--

List of Abilities
Ability
Effect
{{{ability1}}}
---
{{{ability2}}}
---
{{{ability3}}}
---
{{{ability4}}}
---
{{{ability5}}}
---
{{{ability6}}}
---
{{{ability7}}}
---
{{{ability8}}}
---
{{{ability9}}}
---
{{{ability10}}}
---
{{{ability11}}}
---
{{{ability12}}}
---
{{{ability13}}}
---
{{{ability14}}}
---
{{{ability15}}}
---

HP:
56-64
Attack Damage:
4:6:7 (contact)
3:4:5 (missile)
4:6:7 (shell spin)
3:4:5 (Meteor Spring)
5 (Meteor Rain, Xtreme only)
Weapon X gains:
Meteor Rain
Weapon Zero gains:
Ensuizan
Weakness:
Ice Burst
Main Stage:
Inami Temple
Misc. Information
Script:
レイニー・タートロイド
Romaji:
Reinī Tātoroido
Series Information
In-game Appearances:
Mega Man X6
Japanese VA:
Hideo Ishikawa
Theme Music
Rainy Turtloid's stage theme.

---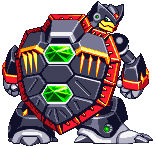 "It is my duty to believe my master... My master was punished because of me... And yet, he let me live. That is why... I'll do what I have to do, even it means my life..."
―Rainy Turtloid, Mega Man X6

Rainy Turtloid (レイニー・タートロイド, Reinī Tātoroido?) is a turtle-based Reploid created by Gate as a member of a water quality research team. He was designed to explore areas with high levels of pollution too great for humans and other Reploids to investigate. As such, his defense systems were greatly heightened. However, concerns grew that his defensive capabilities were too great, and the other researchers demanded he be weakened. Gate refused to comply, and as a result, Rainy Turtloid took his own life so as not to be a burden to his creator. He was later revived by Gate to serve as one of his "Nightmare Investigators".
Strategy
Turtloid attacks by drawing into his shell and spinning in the direction of the enemy (Ensuizan). He can also launch single Meteor Rain projectiles while moving in his shell, and on higher difficulties can summon a literal shower of them much like X's charged version of the weapon (he will shout "Tenmorikori" before the rain begins). He can only be damaged when the two crystals on his shell are destroyed. With X, Turtloid can be frozen with Ice Burst and attacked while he's vulnerable. But, since the ceiling is too high for Zero to use Hyoroga, the player will just have to rely on regular saber strikes. However, players can also use Shoenzan to easily destroy the crystals in two strikes.
Data
Attacks
Missile Attack: Rainy Turtloid will remain still and fire several missiles from the two jewels on his back. Easily stopped by X's buster or Zero's saber.
Rolling Attack: Rainy Turtloid will retract into his shell, then start rolling across the screen. In Xtreme mode, when Rainy Turtloid hits the wall, he will bounce. To avoid, climb the wall and jump over him.
Meteor Rain: With 1/2 health left, Rainy Turtloid will retract into his shell, then start to roll across the screen while firing off Meteor Rain. Rather difficult to avoid due to the little space one has to jump between Meteor Rain without being run over. On higher difficulties, he will fire a shower of Meteor Rain projectiles much like X does with the charged version of his weapon (he will shout "Tenmorikori" before the rain falls, signaling the attack).
Stage enemies
Dialogues
When Playing as X
X: Rainy Turtloid! You must be one of the investigators of the Nightmares.
Rainy Turtloid: I've heard a lot about you. You have my respect.
X: Huh? Respect? Then will you stop the Nightmare phenomena for me?
Rainy Turtloid: Nightmare... It is the only thing that can save the future of the Reploids...
X: What are you talking about! They have hurt us all...
Rainy Turtloid: It is my duty to believe my master... My master was punished because of me... And yet, he let me live. That is why... I'll do what I have to do, even it means my life...
X: Turtloid! I know you can understand. You know what you should do right now.
Rainy Turtloid: X, I understand what you mean, but it's my duty. It's also my duty to eliminate anything that disturbs my master... X, my life is yours!
X: No! I don't want to fight you!
When Playing as Zero
Zero: Are you Rainy Turtloid?
Rainy Turtloid: Zero, the famous Maverick Hunter! X and Zero are Reploids I respect.
Zero: Fine. So don't fight me, help me.
Rainy Turtloid: I've been resurrected to carry out an important duty. A very important duty given by my master... Though I brought shame on my master, he allowed me to live. That's why... I have to finish my duty, even if it means sacrificing my life.
Zero: I see...
Other Media
Rainy Turtloid, along with all but a handful of Mavericks from the X series, appeared in the Worlds Unite crossover event. Here he was part of a Maverick army resurrected by Sigma and set against the alliance of heroes led by Sonic the Hedgehog, Mega Man, and X. He and his comrades assaulted the weary heroes with ease, and Turtloid seized Bubble Man before being attacked by Flash Man and Bunnie Rabbot. He was later amongst the Mavericks called away from battling the heroes and dispatched to plant Unity Engines on various worlds.
Gallery
Artwork
Sprites
Videos
Rainy Turtloid Stage Gameplay
Trivia
He is the largest standard-boss Maverick in the Mega Man X series.
In contrast to Turtloid's "heightened defenses" through his shell, real tortoise shells are highly susceptible to injury and pain, being large growths rather than a carapace.
The second part of Rainy Turtloid's name is also the name of a recurring enemy from the Sonic the Hedgehog series.
This is one of the few main Mavericks that doesn't have any real weakness if playing with Zero (along with Web Spider, Magma Dragoon and Slash Beast). In this case, the technique that is effective against him can never reach him.
Ad blocker interference detected!
Wikia is a free-to-use site that makes money from advertising. We have a modified experience for viewers using ad blockers

Wikia is not accessible if you've made further modifications. Remove the custom ad blocker rule(s) and the page will load as expected.