R20 Rockman & Rockman X Official Complete Works
Talk

11
Share
R20 Rockman & Rockman X Official Complete Works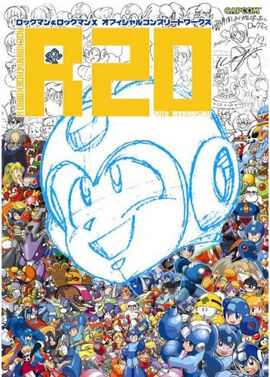 Cover of R20.
Information
Author(s):
Capcom
Illustrator(s):
Various
Publisher(s):
Capcom
Other Publisher(s):
UDON Entertainment
Published:
March 25, 2008 (R20)
December 2009 (MM/MMX)
December 2012 (R20+5)
August 2013 (MM25)
Pages:
336 (R20)
200 (MMOCW)
144 (MMXOCW)
432 (MM25)
Catalog Number(s):
ISBN-10:
4862331785 (R20)
1897376790 (MMOCW)
1897376804 (MMXOCW)
ISBN-13:
978-1-926778-86-0 (MM25)
Published Price:
3,360 Yen (R20)
$39.99 (MM / MMX)
$59,99 (MM25)

R20 Rockman & Rockman X Official Complete Works (R20 ロックマン&ロックマンX オフィシャルコンプリートワークス, R20 Rockman & Rockman X Official Complete Works?) is an illustration book with 336 pages in A4 format containing images and informations of over 40 games from the Mega Man and Mega Man X series, that was released on March 25, 2008 in Japan for 3,360 Yen and in December 2009 as two separate books in North America: Mega Man Official Complete Works and Mega Man X Official Complete Works. The "R20" from the name refers to Rockman's 20th anniversary, which happened on December 2007.
R20+5
On December 2012, Rockman's 25th anniversary, Capcom released a new version of the book titled R20+5 Rockman & Rockman X Official Complete Works with over 90 additional pages. New content include artwork from the games Mega Man 9 and Mega Man 10, and new illustrations by several artists, such as Hitoshi Ariga, Iwamoto Yoshihiro and Haruki Suetsugu. The book was released in North America as MM25 Mega Man & Mega Man X Official Complete Works in August 2013.
Gallery
Covers
Samples
See also
External links
Ad blocker interference detected!
Wikia is a free-to-use site that makes money from advertising. We have a modified experience for viewers using ad blockers

Wikia is not accessible if you've made further modifications. Remove the custom ad blocker rule(s) and the page will load as expected.