Potton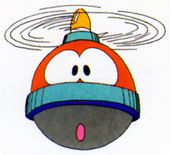 {{{nickname}}}
{{{number}}}
{{{numberb}}}
Information
In-Game Information

Command Mission Stats

Type
--
Level
Life Energy
--
--
Fire
--
Exp.
--
Water
--
Zenny
--
Thunder
--
FME
--
Power
Armor
Shield
Speed
--
--
--
--
Steal
Drop
--
--

List of Abilities
Ability
Effect
{{{ability1}}}
---
{{{ability2}}}
---
{{{ability3}}}
---
{{{ability4}}}
---
{{{ability5}}}
---
{{{ability6}}}
---
{{{ability7}}}
---
{{{ability8}}}
---
{{{ability9}}}
---
{{{ability10}}}
---
{{{ability11}}}
---
{{{ability12}}}
---
{{{ability13}}}
---
{{{ability14}}}
---
{{{ability15}}}
---

HP:
Mega Man 3:
1 (whole Potton)
1 (body)
1 (shell)
Attack Damage:
Mega Man 3:
2 (whole Potton)
4 (body)
2 (shell)
Misc. Information
Script:
ポットン
Romaji:
Potton
Series Information
In-game Appearances:
Mega Man 3
Mega Man III
Super Adventure Rockman
Other Appearances:
Mega Man Megamix

Potton (ポットン, Potton?) is a flying surveillance robot enemy in Mega Man 3 and Mega Man III. They attack by dropping their explosive body when Mega Man passes under them. Afterwards they are just glass shells with propellers that fly around. It still hurts Mega Man if he touches them. As they explode themselves, they are costly to keep. They appear in Snake Man's stage and Gemini Man's (Doc Robot) stage in Mega Man 3, in Snake Man's stage in Mega Man III, and a Potton can be seen briefly in episode 2 of Super Adventure Rockman.
Other media
Potton is one of the robots that protects the Mother Computer in Mega Man Megamix.
Gallery
Ad blocker interference detected!
Wikia is a free-to-use site that makes money from advertising. We have a modified experience for viewers using ad blockers

Wikia is not accessible if you've made further modifications. Remove the custom ad blocker rule(s) and the page will load as expected.