Pluto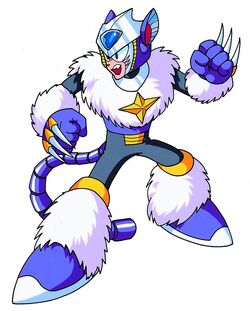 {{{nickname}}}
SRN-008
{{{numberb}}}
Information
In-Game Information

Command Mission Stats

Type
--
Level
Life Energy
--
--
Fire
--
Exp.
--
Water
--
Zenny
--
Thunder
--
FME
--
Power
Armor
Shield
Speed
--
--
--
--
Steal
Drop
--
--

List of Abilities
Ability
Effect
{{{ability1}}}
---
{{{ability2}}}
---
{{{ability3}}}
---
{{{ability4}}}
---
{{{ability5}}}
---
{{{ability6}}}
---
{{{ability7}}}
---
{{{ability8}}}
---
{{{ability9}}}
---
{{{ability10}}}
---
{{{ability11}}}
---
{{{ability12}}}
---
{{{ability13}}}
---
{{{ability14}}}
---
{{{ability15}}}
---

HP:
19
Attack Damage:
3 (contact)
2 (fireball)
3 (Break Dash)
2 (homing projectile)
Weapon:
Break Dash
Weakness:
Grab Buster
Misc. Information
Script:
プルート
Romaji:
Purūto
Eye Color:
Red
Series Information
In-game Appearances:
Mega Man V
Mega Man & Bass (as a data CD)

Pluto (プルート, Purūto?) is one of the second four Stardroids Mega Man must fight in Mega Man V for the Game Boy. Pluto was designed for jungle combat, and thus as his appearance suggests, he has very quick reflexes and is agile like a feline. Slash Man resembles Pluto to a degree.
Pluto's Special Weapon is the Break Dash, which allows him to dash at supersonic speed over short distances and temporarily become immune to damage while doing so. He can also slash enemies up close with the claws on his knuckles, cling onto walls, and fire two types of energy shots from his hands: shockwave/fireball-type projectiles and a bigger homing shot.
Despite his appearance, Pluto ironically dislikes the cold. He enjoys taking care of his claws with regular manicures and sometimes tries his hand at nail art as well, but is somewhat vain and gets annoyed when his claws get damaged in combat. Pluto does not get along with Mercury, one possible reason being because he is weak to Mercury's weapon, the Grab Buster.
Strategy
Pluto's pattern consists of first shooting an energy shot in form of a fireball twice, which can be avoided by simply jumping over them. Then he will use the Break Dash by the floor and from wall to wall. This is avoided by jumping over Pluto and running to the side he came. Finally, on the wall, he will throw three homing projectiles, one after the other, which is avoided by getting out of their way. He will fall off the wall and repeat the pattern. He is vulnerable to attacks when he is on the floor. Pluto's weakness is the Grab Buster, which can be used to steal his energy at each shot. He is defeated in seven hits from this Special Weapon.
Data
Mega Man & Bass CD data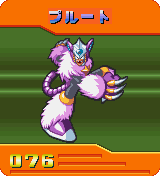 • CD data •
English data
A battle robot designed for jungle combat. Slash Man is designed after him.
"Can you outrun my dashing speed!?"
Good Point:
Good reflexes
Bad Point:
The cold
Like:
Manicure
Dislike:
Nail damage
Japanese data
Bad Point:
Weak to cold
Like:
Nail art
Dislike:
Pedicure
Stage enemies
Enemies in Pluto's stage:
Damage Data Chart
Amount of damage in units that Pluto will receive from each Special Weapon from Mega Man V.
Mega Buster/Arm
Grab Buster
Bubble Bomb
Photon Missile
Electric Shock
Black Hole
Deep Digger
Break Dash
Salt Water
Spark Chaser
Tango
1:3
3
1
1
2
0
--
0
1
1
0
Other media
Manga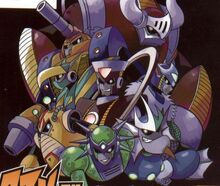 In the manga Rockman Gigamix, the Stardroids are powerful space robots that are attacking Earth, destroying several robots in the process. Pluto defeated Tomahawk Man[1]. In the final battle, he was destroyed by Ring Man.
Pluto also appeared in a robot museum in the manga Rockman & Forte.
Pluto is featured in the Archie Comics as one of Ra Moon's creations, who is tasked alongside his fellow Stardroids and Sunstar with conquering Earth after Ra Moon fails to do so.
Trivia
Pluto is named after the dwarf planet Pluto, which is named after the Roman god of the underworld. Unlike some of the other Stardroids, his appearance does not seem to have been inspired by any attribute of this mythological deity.
Due to the demotion of the celestial body to a dwarf planet, Pluto is the only Stardroid who does not share his name with an actual planet.

When V was first released, Pluto was still classified as a planet and was the eighth planet from the Sun, which explains why Pluto is SRN-008 as opposed to SRN-009.

Pluto is one of the few Robot Masters in the classic series with a tail.
Pluto's attack, the Break Dash, when used by Mega Man, seems to be a crossover between Slash Claw and Charge Kick, similar to Bass' variation of the Tengu Blade.  However, it has the unique property of granting an invincibility frame for one second after the dash ends if it's fully charged.
Pluto's cat-like appearance may be a parallel to the Disney character Pluto the Pup, as he was named within the same year that the dwarf planet was first discovered.
Ironically, Pluto does not like the cold, despite having fur. Also, the dwarf planet he is named after has some of the lowest recorded temperatures in the solar system.
Pluto's weakness to the Grab Buster may be a reference as to how cats usually dislike being picked up.
References
Ad blocker interference detected!
Wikia is a free-to-use site that makes money from advertising. We have a modified experience for viewers using ad blockers

Wikia is not accessible if you've made further modifications. Remove the custom ad blocker rule(s) and the page will load as expected.