Pegasolta Eclair
(

ペガソルタ・エクレール

?

)
is one of the
Einherjar Eight Warriors
in
Mega Man Zero 4
, based on
Pegasus
, a flying horse from Greek mythology. He uses electric attacks, is a narcissist at heart, and looks down on anything he considers to be ugly, which usually includes everything else. In
Mega Man Zero 4
, Pegasolta occupied the
Hanging Gardens
, a flying fortress equipped with generators used to create acid rain and powerful lighting storms in an attempt to destroy the environment of
Area Zero
. He appears again in
Ragnarok
along with the other Einherjar to prevent
Zero
from reaching
Doctor Weil
. The strong wind that was an obstacle throughout the Hanging Gardens mission will also be in effect during his battle there. Pegasolta reappears as an optional boss in
Area N
of
Mega Man ZX
. The player must have the
Mega Man Zero 4
cartridge inserted into the Nintendo DS's Game Boy Advance slot for the battle to take place.
Data
Nickname: 天翔ける神槍 (Ama kakeru Shinsou, Sky-Running Divine Lance) EX Skill: Thunder Blast (サンダーブラスト) Mission: Stop the acid rain Zero's EX Skill: Thunder Stab
Formerly a Reploid charged with the maintenance of a large, airborne weather control station, he was redesigned for combat when Weil seized control of Neo Arcadia and transferred to a combat squad - an assignment he had long desired. Thanks to his ability to fly, he is very agile, which he combines with the lightning lances on both of his arms when fighting. With a suave and confident personality, he likes beautiful things and high places. Pegasolta Eclair's wings are mobile, and can be used to fly.
Attacks
Lightning Assault: Moves in a zigzag pattern trying to stab Zero with his swords.
Thunder Ceptor: Launches two electric spears at Zero; if both of them land on solid ground, a bolt of lightning appears between the two and causes damage.
V Gallop: Swoops down, trying to kick Zero aside. This can push Zero off the platforms and into the bottomless pit below.
Thunder Guillotine: Emits two long lines of electricity, one horizontal and one diagonally, while floating down towards the ground. The only way to avoid damage is a well-timed dash on the central (lower) platform.
EX Skill - Thunder Blast: Charges at Zero like a comet.
Gallery
Videos
Zero Vs. Pegasolta Eclair
 !  !
Mega Man ZX
Model X
Vs. Pegasolta Eclair
|- |
|  |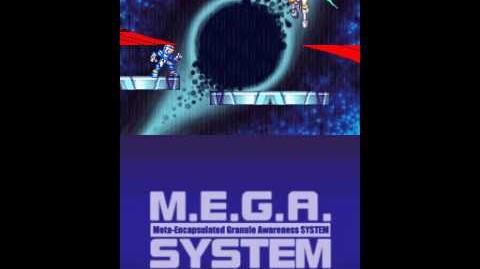 |}

Ad blocker interference detected!
Wikia is a free-to-use site that makes money from advertising. We have a modified experience for viewers using ad blockers

Wikia is not accessible if you've made further modifications. Remove the custom ad blocker rule(s) and the page will load as expected.