Optic Laser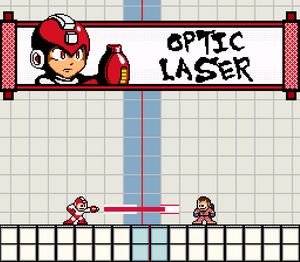 Mega Man using the Optic Laser.
Weapon Information
Alt. Name(s):
Optic Laser
In-Game Information
Obtained from:
Crimson Viper
Trajectory:
(straight)
Effect:
Pierce
Effective against:
Dhalsim
Cost:
2
Capacity:
14
Series Information
In-game appearances:
Street Fighter X Mega Man


Optic Laser is Crimson Viper's special weapon from Street Fighter X Mega Man. When used, Mega Man will shoot a long and powerful beam. The beam consists of 4 sections, each section dealing 5 points of damage.