Oil Stream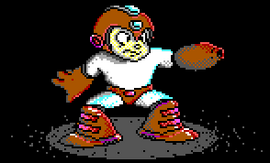 Mega Man equipped with Oil Stream.
Weapon Information
In-Game Information
Obtained from:
Oil Man (PC)
Effective against:
Shark Man
Cost:
2 units
Capacity:
16 uses
Type:
Oil, Projectile
Series Information
In-game appearances:
Mega Man 3 (PC)

Oil Stream is a Special Weapon Mega Man obtains by defeating Oil Man (PC) in the DOS Mega Man 3. It acts as a long-ranged projectile weapon.
Oil Stream does 8 damage to Shark Man, 4 damage to Wave Man (PC), and 3 damage to Blade Man (PC).
Gallery
Trivia
Oil Stream is one of the only two oil based weapons, the other being Oil Man's Oil Slider.
It looks and acts extremely similarly to Torch Arm, although a different color.
Ad blocker interference detected!
Wikia is a free-to-use site that makes money from advertising. We have a modified experience for viewers using ad blockers

Wikia is not accessible if you've made further modifications. Remove the custom ad blocker rule(s) and the page will load as expected.