OVER-1
Talk

4
3,441pages on
this wiki
OVER-1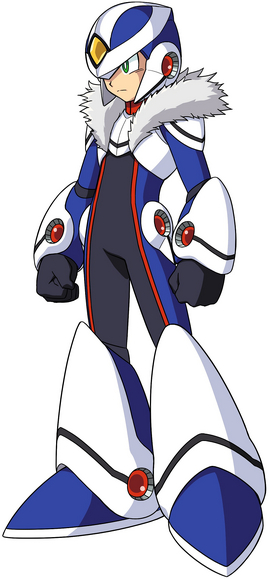 OVER-1 in Rockman ×over
{{{nickname}}}
{{{number}}}
{{{numberb}}}
Information

Command Mission Stats

Type
--
Level
Life Energy
--
--
Fire
--
Exp.
--
Water
--
Zenny
--
Thunder
--
FME
--
Power
Armor
Shield
Speed
--
--
--
--
Steal
Drop
--
--

List of Abilities
Ability
Effect
{{{ability1}}}
---
{{{ability2}}}
---
{{{ability3}}}
---
{{{ability4}}}
---
{{{ability5}}}
---
{{{ability6}}}
---
{{{ability7}}}
---
{{{ability8}}}
---
{{{ability9}}}
---
{{{ability10}}}
---
{{{ability11}}}
---
{{{ability12}}}
---
{{{ability13}}}
---
{{{ability14}}}
---
{{{ability15}}}
---

Misc. Information
Script:
オーバー ワン
Romaji:
Ōbā Wan
Eye Color:
Green
Series Information
In-game Appearances:
Rockman ×over
{{{sprite}}}
OVER-1 (オーバー ワン, Ōbā Wan?) is the main character from Rockman ×over, a Reploid created by Dr. Light and Dr. Cossack to stop Dr. Wily, Sigma and other villains. He can be upgraded with Battle Memory and Armor Parts.
OVER-1 bears a striking resemblance to the title character in the Mega Man X series, including the pose from the first three games. This is most likely due to OVER-1's sprites being an edit over X's sprites from the iOS version of Mega Man X.
OVER-1 is the second main protagonist in the franchise to not debut on a Nintendo console. The first is Mega Man Volnutt, who debuted on the PlayStation.
The fact that OVER-1 is dubbed a Reploid is ironic, since Mega Man X, a creation by Dr. Light, was the first Reploid created and was sealed until Dr. Cain found him and used X as a base to produce his first Reploid, Sigma. Hence, how Dr. Light is capable of Reploid creation is unknown, and why the term is used before its creation. However, it is not impossible as the game involves time travel.

Additionally, it is unknown how Dr. Cossack possesses the capabilities to construct Reploids, although one can assume he had Dr. Light's assistance.