Nitro Man
Talk

0
3,568pages on
this wiki


Nitro Man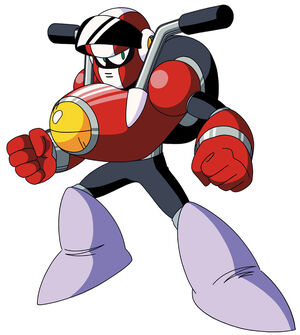 {{{nickname}}}
DWN-079
{{{numberb}}}
Information
In-Game Information

Command Mission Stats

Type
--
Level
Life Energy
--
--
Fire
--
Exp.
--
Water
--
Zenny
--
Thunder
--
FME
--
Power
Armor
Shield
Speed
--
--
--
--
Steal
Drop
--
--

List of Abilities
Ability
Effect
{{{ability1}}}
---
{{{ability2}}}
---
{{{ability3}}}
---
{{{ability4}}}
---
{{{ability5}}}
---
{{{ability6}}}
---
{{{ability7}}}
---
{{{ability8}}}
---
{{{ability9}}}
---
{{{ability10}}}
---
{{{ability11}}}
---
{{{ability12}}}
---
{{{ability13}}}
---
{{{ability14}}}
---
{{{ability15}}}
---

HP:
28
Attack Damage:
4 (Contact, Normal)
5 (Contact, Motorcycle form)
4 (Wheel Cutter)
Weapon:
Wheel Cutter
Weakness:
Chill Spike
Misc. Information
Script:
ニトロマン
Romaji:
Nitoro Man
Eye Color:
Green
Series Information
In-game Appearances:
Mega Man 10


Nitro Man (ニトロマン, Nitoro Man?) is a Robot Master from Mega Man 10. He can transform into a motorcycle and release several Wheel Cutters. He is a stunt robot who has appeared in many movies and TV shows. He is willing to do whatever stunts he is asked regardless of the risks. Nitro Man is also the president of a robot stunt club which has sixty members.[1]
Strategy
Nitro Man rides around in his bike mode and tries to ram into Mega Man. Afterwards, he will perform a wheelie, ride up the wall, change back into his normal mode, and fire Wheel Cutters. Nitro Man will also throw several Wheel Cutters while on the ground.
On Easy Mode, he only throws one Wheel Cutter at a time and never performs wheelies; the player should just keep jumping and they should not be hit if careful.
On Hard Mode, his bike mode is extremely fast and he runs a short path again and again instead of across the room.
Chill Spike works best against Nitro Man, since the shot will freeze him (and force him to restart his attack pattern) and the spikes both destroy Wheel Cutters and do heavy damage to him.
Stage enemies
Enemies that appears in Nitro Man's stage.
Gallery
Trivia
Nitro Man is the only Robot Master in Mega Man 10 to not enter the boss room in the normal fashion, i.e., fall down from the ceiling. Instead, he rides in from the left of the screen in his motorcycle form to the right, then stops and transforms into his humanoid form.
His stage music was featured in the first Mega Man 10 trailer.
Nitro Man's Special Weapon, Wheel Cutter, is similar to the Mega Man X series's Wheel Gator's Spin Wheel, except that Spin Wheel can climb up walls on its own, where Wheel Cutter can only do so by holding down the fire button and running into a wall.
Nitro Man was originally the name of a Robot Master for a fan-made game, Mega Man Unlimited. However, after Capcom announced Nitro Man for Mega Man 10, the creator, MegaPhilX, was forced to change the name to Trinitro Man. This is merely a coincidence, though.
Although Nitro Man hasn't made an appearance in the Mega Man Archie Comics series, he was briefly mentioned by Mega Man while fighting Sonic, when commenting on the latter's speed being faster than Nitro Man.
References