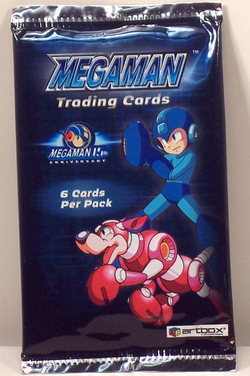 The Mega Man Trading Cards are Mega Man cards released by Artbox Entertainment in 2004. The collection has 45 standard cards with game artwork and 9 cards illustrated by Patrick "Spaz" Spaziante.
Card list
Rock
Light Personified
Good vs. Evil
Mr. X and Dr. Cossack
Dr. Wily's Defeat!
Dr. Wily Escapes
Dual Heroes Battle
Dr. Cain's Creations
The Caskett Family
The Bonne Family
New Adventures
Ciel Searches
Unknown X
The Four Guardians
Checklist
Chase Cards
Trivia
External links
Ad blocker interference detected!
Wikia is a free-to-use site that makes money from advertising. We have a modified experience for viewers using ad blockers

Wikia is not accessible if you've made further modifications. Remove the custom ad blocker rule(s) and the page will load as expected.