Mega Man Battle Network Official Complete Works
Talk

2
Share
Ad blocker interference detected!
Wikia is a free-to-use site that makes money from advertising. We have a modified experience for viewers using ad blockers

Wikia is not accessible if you've made further modifications. Remove the custom ad blocker rule(s) and the page will load as expected.
Mega Man Battle Network
Official Complete Works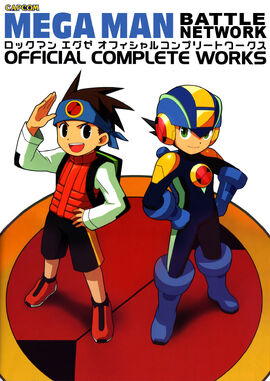 US version cover
Information
Author(s):
Capcom
Illustrator(s):
Various
Publisher(s):
Capcom
Other Publisher(s):
UDON Entertainment
Serialized in:
ISBN-10:
192677812X(US)
4862332447(JP)
ISBN-13: 978-1926778129(US)
978-4862332448(JP)
Published:
December 21, 2009 (JP)
March 29, 2011 (US)
Pages:
176
Published Price:
2,100 yen
$39.95
Mega Man Battle Network Official Complete Works (ロックマンエグゼ オフィシャルコンプリートワークス, Rockman EXE Official Complete Works?) is a book with a collection of illustrations, character designs, concept art sketches, location designs and information from the Mega Man Battle Network series. However, it does not contain certain exclusive art used in advertisements and Link PET battle chips.
Gallery
Covers