To Become an Idol! is the twenty-seventh episode of the MegaMan NT Warrior anime in Japan, and was never adapted into the English dub.
Synopsis
The girls enter a contest to be just like Aki, a virtual pop singer. However, contestants go missing, so the boys dress as Aki to investigate the situation. A virus has infected Aki causing the mayhem, so MegaMan, GutsMan, and IceMan jack-in to rescue their idol.
Summary
Gallery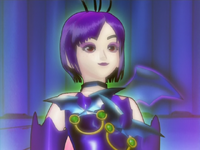 References
Ad blocker interference detected!
Wikia is a free-to-use site that makes money from advertising. We have a modified experience for viewers using ad blockers

Wikia is not accessible if you've made further modifications. Remove the custom ad blocker rule(s) and the page will load as expected.