Ad blocker interference detected!
Wikia is a free-to-use site that makes money from advertising. We have a modified experience for viewers using ad blockers

Wikia is not accessible if you've made further modifications. Remove the custom ad blocker rule(s) and the page will load as expected.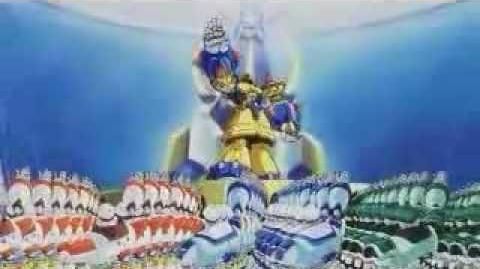 Makenai Ai ga Kitto Aru (負けない愛がきっとある, Makenai Ai ga Kitto Aru? roughly "Unbeatable Love I Surely Have") is the opening theme from Rockman X4, and also the song used in the game's TV commercial. The song was released as part of the Rockman Theme Song Collection and in a CD single alongside the game's ending theme One More Chance and karaoke versions of the two musics. Lyrics by Gorō Matsui, composed by Tetsuji Hayashi, arranged by Takahiro Tashiro and performed by Yukie Nakama.
Lyrics
Kanji
WHY 好きな気持ちは 鋭い棘
WHY 迷いすぎると 自分に刺さる
だんだんと 花びらを咲かせる
薔薇のようでも ほんとうは
心に震えてる愛が怖い
壊れそうで… (壊れそうで…)

抱きしめてくれるより
もっとわかってほしい
優しさをくれるより
さみしさを越えてゆく力 欲しい

負けない愛だって
この胸に かならずあるはずよ
たしかな愛だって
求めれば いつかは見えるから
いま どうなってゆこうと
いま運命に逆らう 強さを信じさせて

WHY あどけなさから 生まれる罪
WHY 知らないことで 誰かを責める
感情が なにげない 不安を複雑にする
関係ない ことばを 選んでは言い訳して
逃げてばかり… (逃げてばかり…)

慰めてくれるなら
もっと叱ってほしい
まちがいを許すなら
傷さえも包み込む夢が欲しい

負けない愛だって
この胸に かならずあるはずよ
たしかな愛だって
求めれば いつかは見えるから
いま どうなってゆこうと
いま愛情に従う 強さを信じさせて

負けない愛だって
この胸に かならずあるはずよ
たしかな愛だって
求めれば いつかは見えるから
いま どうなってゆこうと
いま運命に逆らう 強さを信じさせて
Romaji
WHY? Suki na kimochi wa surudoi toge
WHY? Mayoisugiru to jibun ni sasaru
Dandan to hanabira o sakaseru bara no you demo
Hontou wa kokoro ni furueteiru ai ga kowai
Kowaresou de...(kowaresou de...)
Dakishimete kureru yori motto wakatte hoshii
Yasashisa o kureru yori samishisa o koete yuku chikara hoshii

Makenai ai datte kono mune ni kanarazu aru hazu yo
Tashikana ai datte motomereba itsuka wa mieru kara
Ima dounatte yukou to...ima unmei ni sakarau
Tsuyosa o shinjisasete

WHY? Odokenasa kara umareru tsumi
WHY? Shiranai koto de dareka o semeru
Kanjou ga nanigenai fuan o fukuzatsu ni suru
Kankeinai kotoba o erande wa iiwake shite
Nigete bakari...(Nigete bakari...)

Nagusamete kureru nara motto shikatte hoshii
Machigai o yurusu nara kizu sae mo tsutsukomu yume ga hoshii

Makenai ai datte kono mune ni kanarazu aru hazu yo
Tashikana ai datte motomereba itsuka wa mieru kara
Ima dounatte yukou to...ima aijou ni shitagau
Tsuyosa o shinjisasete

Makenai ai datte kono mune ni kanarazu aru hazu yo
Tashikana ai datte motomereba itsuka wa mieru kara
Ima dounatte yukou to...ima unmei ni sakarau
Tsuyosa o shinjisasete
References