Liquid Glob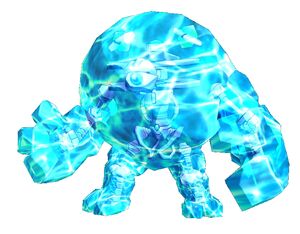 {{{nickname}}}
{{{number}}}
{{{numberb}}}
Information
In-Game Information

Command Mission Stats

Type
Energy
Level
Life Energy
24
1500
Fire
100%
Exp.
350
Water
25%
Zenny
500
Thunder
200%
FME
250
Power
Armor
Shield
Speed
88
30
30
30
Steal
Drop
Mega Blizzard
Ultra Blizzard
Ice Star (3%)
Ice Missile (20%)

List of Abilities
Ability
Effect
Standard Strike
S-type Water Attack.
Giga Blizzard
Strong Water Attack, hits one party member.
Death Gravity
Reduces one party member's current LE by 25%, moderate hit radio.
Virus Attack
S-type Water Attack, inflicts Virus.
Coercion
S-type Water Attack, cancels target's next turn, ignores defense (half damage still work).
Ultrastream
Strong Water Attack, hits all party members.
{{{ability7}}}
---
{{{ability8}}}
---
{{{ability9}}}
---
{{{ability10}}}
---
{{{ability11}}}
---
{{{ability12}}}
---
{{{ability13}}}
---
{{{ability14}}}
---
{{{ability15}}}
---

Location(s):
Gaudile Laboratory, Gimialla Mine
Series Information
In-game Appearances:
Mega Man X: Command Mission
{{{sprite}}}
Liquid Glob is an enemy fought in Mega Man X: Command Mission.
These Globs, along with Plasma Globs and Fire Globs, are mainly found in the Gimialla Mine stage of the game.
This elemental has high defense - when hit, the game will say its body is "absorbing the shock." Restores depending of target's current LE every turn. Freezing it with any Ice-based weapon or sub weapon will prevent the Glob from moving (until the ice shatters), and subsequent characters that attack the Glob will do full damage.