Lightning Kick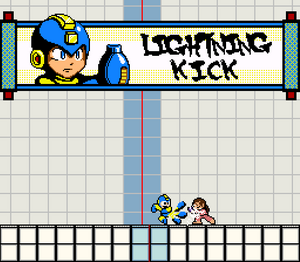 Mega Man using the Lightning Kick.
Weapon Information
Alt. Name(s):
Lightning Kick
In-Game Information
Obtained from:
Chun-Li
Trajectory:
Close range
Effective against:
Crimson Viper
Cost:
1
Capacity:
28
Series Information
In-game appearances:
Street Fighter X Mega Man


Lightning Kick is Chun-Li's special weapon from Street Fighter X Mega Man. When used, Mega Man will kick two times in quick succession. Each kick deals 3 points of damage.