Lightning Bolt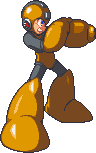 Mega Man and Bass equipped with Lightning Bolt.
Weapon Information
Script:
ライトニングボルト
Romaji:
Raitoningu Boruto
In-Game Information
Obtained from:
Dynamo Man
Trajectory:
Full screen
Effect:
Invulnerability
Effective against:
Cold Man
King
User(s):
Mega Man
Bass
Attack damage:
Against Enemies:
4x4
Cost:
5 units
2½ units (with Energy Saver)
Capacity:
6 uses
11 uses (with Energy Saver)
Series Information
In-game appearances:
Mega Man & Bass
Lightning Bolt (ライトニングボルト, Raitoningu Boruto?) is Dynamo Man's Special Weapon in Mega Man & Bass. The user will hover in the air and summon a rain of powerful lightning bolts that cover the entire battlefield. This attack will hit every enemy and object in the area. During use, the player is momentarily invincible, allowing one to avoid enemy shots and some moving obstacles (such as the spike traps in Ground Man's stage). The Lightning Bolt can also be used to jump again in mid-air, similar to Astro Crush. This weapon is very effective against Cold Man and King. The weapon has perhaps the greatest aid against King Plane, since if the player is about to fall into a pit or a flying platform is destroyed by the plane's fists, it can be used to halt the fall and land on one of the platforms.
Damage Data Chart
Damage values in units in Mega Man & Bass.
Lightning Bolt
Boss
Damage
Green Devil
4
Cold Man
3
Burner Man
1
Pirate Man
2
Ground Man
1
Tengu Man
1
Magic Man
2
Astro Man
1
Dynamo Man
0
Atetemino Proto
0
King
3
Jet King Robo
1
Wily Machine
1
Wily Capsule
1
Capacity
Activating a Lightning Bolt uses five weapon energy units and releases four downward bolts of lightning in random areas. It can still be activated if less than five units of weapon energy remains. The user can activate the Lightning Bolt six times with a full energy gauge. With the energy-saving device equipped, it uses three units of energy per use. It can be used ten times with a full gauge and the energy-saver equipped. 
Screenshots
Trivia
See also
Similar Weapons
Ad blocker interference detected!
Wikia is a free-to-use site that makes money from advertising. We have a modified experience for viewers using ad blockers

Wikia is not accessible if you've made further modifications. Remove the custom ad blocker rule(s) and the page will load as expected.