Lightning (ライトニング, Raitoningu) is an electric Battle Chip in the Mega Man Battle Network series.
Games
Lightning is a Mega Chip.
It has a stronger version named Thunderbolt (サンダーボルト, Sandāboruto, shortened Bolt).
Lightning is a family of Secret Chips.
Anime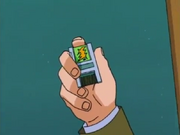 Lightning is a Battle Chip used by Count Zap in episode 7 of MegaMan NT Warrior. It makes a lightning fall from the sky in ElecMan's direction, healing him, and ElecMan uses the lightning to attack MegaMan by redirecting it in his direction. WoodMan helps MegaMan by using several Wood Towers to block the lightning.